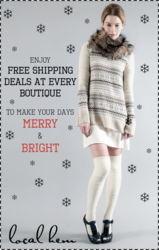 Local Hem, the boutique shopping platform, is encouraging shoppers to avoid department stores this holiday season and instead shop local boutiques.
Cambridge, MA (PRWEB) December 20, 2011
Local Hem, the online boutique shopping platform, is encouraging shoppers to avoid department stores this holiday season and instead shop local boutiques, either in-person or through the online boutiques on Local Hem. The company has aggregated their sales data from Cyber Monday through late December to highlight the top 5 holiday buying trends of the 2011 season:
1) Cashmere Sweaters: The cashmere sweater is a timeless gift; not surprisingly, Local Hem saw many of its boutiques selling these cold-weather staples to buyers from all over the country. Velvet by Graham and Spencer cashmere sweaters from Helena's Boutique in Arlington, MA were among the most requested.
2) Jewelry: There's a reason women request jewelry for the holidays year-after-year: it always fits. The ease of fit also makes it perfect for gift-giving, leaving little guesswork to the up to the gift-giver. The online boutiques on Local Hem saw sales in this category jump as items like the Chunky Hayworth Bracelet by Frolick from Sadie's Boutique and the Art of Henri Gold Lion's Head Bangle from Encounter Boutique were shipped off to eager recipients.
3) One-Size-Fits-Most Apparel: Like jewelry, apparel with one-size-fits-most styling is a popular choice among gift-givers. Local Hem's boutiques saw ponchos, open cardigans and vests flying out of their online shops this season. She Boutique in Marblehead, MA was a popular destination for shoppers buying easy-to-fit knits from brands like EMU Australia and Kerisma.
4) Party Wear: Silks, sequins and the color black were all hits in the boutiques this month as the party season got into full-swing. Likewise, dresses like the Three Dots A-Line Dresses from Duchess Boutique in Newton, MA were shipped off to party-goers nationwide.
5) Fancy Footwear: This rise of this category was most surprising as the online boutiques saw sales of footwear with unique features fly out the door. From ponyhair booties to red patent leather oxfords, the more unique, the more interest there was in these shoes.
Appreciating that the season is far from over, Local Hem is giving online shoppers yet another reason to support small businesses and shop boutiques this holiday season: free shipping. With gifts for every budget and taste, all of Local Hem's boutiques are eager to delight holiday shoppers by offering free shipping deals, with many of the boutiques offering complimentary gift-wrap as well.
ABOUT LOCAL HEM
Local Hem is an online boutique shopping platform allowing visitors from anywhere in the world to shop a selection of the best independent, local boutiques online. Visitors to the site can discover and shop boutiques by location, category, designer or specific trends. Each online boutique is handpicked for Local Hem based on its commitment to offering unique, high-quality merchandise and customer service, resulting in a carefully curated selection of the best local boutiques.
For more on Local Hem, visit their Facebook Fan Page or follow them on Twitter @localhem.
###