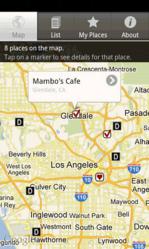 The idea is to connect Droid users with the places they've seen on the show.
Reston, Virginia (PRWEB) December 20, 2011
MapMuse today announced the release of the Diners Drive-In & Dives Finder on the Android Market. The app, a map-based directory and review platform for restaurants featured on the hit Food Network program, Diners, Drive-Ins, and Dives, has garnered widespread praise and attention on the iTunes App Store over the past year. It's expected to encounter the same sort of popularity among Android users.
The Finder is targeted toward viewers of the program, in which celebrity chef Guy Fieri travels the country seeking out hole-in-the-wall restaurants with renowned chow. Among other things, the app provides users with the addresses and contact details of those restaurants. "The idea is to connect Droid users with the places they've seen on the show, presumably so they themselves can eat the dishes Guy eats," says Mike Pilon, owner of MapMuse. "It's a simple idea that's been a big hit for us." The app, which costs $2.99 on both the Android Market and the iTunes App Store, has typically seen around 75 to 100 downloads per day, a number that's expected to increase due to its release on the new platform.
In addition to viewing each restaurant's address and contact details, users can load supplementary information such as episode details and Yelp Reviews. Users who visit locations are also encouraged to submit photos and reviews afterward, as well as add restaurants to their Visited List, Favorite List, or Bucket List for easy access later. Similar to other review sites and apps, restaurants listed on the Diners, Drive-Ins, and Dives locator have played a large role in keeping their data accurate and up to date, which comes as no surprise seeing as it can only attract new customers.
MapMuse, an internet and app development company based out of Reston, VA has a long history of developing apps based on travelling food shows. Among its App Store catalog, one can find titles such as the "The Man V. Food Restaurant Locator," the "No Reservations Restaurant Locator," the "Best Thing I Ever Ate Locator," and the "Top Chef Restaurant Locator." All of their TV food apps are expected to be released on the Android Market over the next few months. The company also offers a free web-based alternative to the apps on its website, http://www.mapmuse.com. "MapMuse has earned a reputation on the iTunes App Store for churning out quality TV Food maps and apps," says Pilon. "As long as there are other potential customer bases out there, like the Android Market, we'll continue to explore them."
###