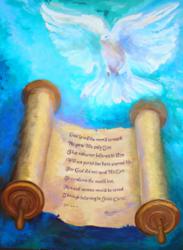 It is forgiveness through the birth of God's Son that brings hope and purpose.
Castle Rock, CO (PRWEB) December 22, 2011
Recently released Christian art, "Salvation," by Candis Kloverstrom paints God's mercy in providing a way for man to reconnect to Himself through His Son Jesus Christ. As a free gift from God to man, salvation includes man being filled with God's Spirit.
The artwork illustrates that discernment of God's word is through the indwelling Holy Spirit. I Corinthians 2:14 states, "But the natural man does not receive the things of the Spirit of God for they are foolishness to him, nor can he know them, because they are spiritually discerned."
Pastor Terry Hilgers with Jubliee Fellowship Church in Lone Tree, Colorado talks about experiencing God during Christmas. He states, "We don't find love, peace and joy in Christmas. We find it in Christ. We, as a race of people, we find ourselves disappointed in Christmas because we look for Christmas to do what only Christ can do… You can have a moment of peace, a moment of joy, a moment of love as we define Christmas in our world. Or you can have lasting love, lasting joy, and lasting peace. And the only difference is your expectation of Christmas and your relationship with Christ. That turns the whole issue right there."
Pastor Hilgers went on to say, "When I sit down and think about Christ and His love, I think about how good it is to be forgiven. If you are a follower of Christ, you know what that is… You have that gift of forgiveness that you can give to someone."
"Looking back the last thirty plus years as a Christian I can see God working in and through me," stated Kloverstrom, "It is not that one day I was a sinner and the next a perfect saint but because of Jesus, I have the kind of hope that ignites my life."
Forgiveness and Restoration by Rose Sweet states, "One reason we resist forgiving is that we don't really understand what forgiveness is or how it works. We think we do, but we don't… The first step to understanding forgiveness is learning what it is and isn't. The next step is giving yourself permission to forgive and forget, letting go of the bitterness while remembering very clearly your rights to healthy boundaries."
Joyce Meyer talks about how to embrace God's forgiveness. She said, "People who are really strong, serious Christians are going after the meat of the Word. They listen to teachings on pride. They want to be humble, patient and victorious in Christ, and they train themselves to learn right from wrong."
About "Salvation" Artwork
"Salvation" was inspired by a recent trip to Israel where Kloverstrom walked the streets Jesus walked connecting to Him through visiting places He traveled while on earth. "It was there I saw lots of religious experiences. But, it was that connection to Jesus that brings me to God the Father no matter where I am or what I am doing," stated Kloverstrom.
Background
Today Artistic Impact Publishing, LLC creates Christian Art and materials for edification and encouragement of the body of Christ assisting them in their endeavor to live out their faith. Where reaching the lost is a mainstay of the Christian faith, God's love is the magic ingredient that changes lives.
In the past Artistic Impact Publishing, LLC published works such as "Denver Men in the Kitchen" featuring men such as Governor John Hickenlooper, MIX 100 anchor-man Dom Testa, and Business Journal President Scott Bemis. This book went beyond the business suits into personal lives creating an accurate picture of today's successful Denver guy.
###