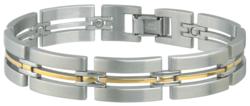 Sikeston, MO (PRWEB) December 20, 2011
Sabona of London is set to introduce its newest designs to its magnetic bracelet line in January 2012. As the premier manufacturer and marketer of copper and magnetic jewelry, Sabona strives to introduce innovative and beautiful designs each year.
New for Sabona's immensely popular men's bracelet line is the sleek, clean-lined masculine Imperial Magnetic Bracelet, featuring brushed and polished stainless steel, and the Greek Key Stainless Magnetic bracelet, with a continuous Greek Key design. Both designs are available in either stainless steel or gold plating.
New for the ladies are two exciting and attractive designs, the Lady Executive Two-Tone Gem Magnetic Bracelet and the Lady Executive Matte Gem Magnetic Bracelet. Both styles feature beautiful, eye-catching cubic zirconia gems.
Also new for the 2012 collection, is the Antique Horsehead Crosses Magnetic Bracelet, which has a great western flair and the Brushed Copper Magnetic Bracelet. This striking brushed copper magnetic wristband is an appealing and unique twist to Sabona's original copper magnetic series.
For more information on all of Sabona's products, visit http://www.sabona.com or call 800-497-4199.
About Sabona of London Unlimited, Inc:
Sabona of London, Inc., established in 1959, has a long history as the premier manufacturer and marketer of copper and magnetic jewelry worldwide! The expanded Sabona product line includes Copper Magnetic Bracelets and Stainless Steel Magnetic Bracelets as well as Pro Magnetic Sport silicone wristbands and Sabona Athletic Bracelets, a line of fabric magnetic bracelets. In addition to magnetic bracelets, Sabona offers Copper Thread Supports, a line of supports for the knee, ankle, elbow, etc. that feature 5% copper thread in the fabric.
Contact:
info(at)sabona(dot)com
800-497-4199
http://www.sabona.com
###