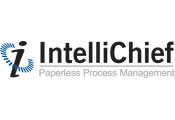 Mansfield, MA (PRWEB) December 20, 2011
IntelliChief LLC, the leading provider of document management and document imaging solutions for the IBM I (System i, iSeries, AS/400), will be conducting a webinar on how to leverage JD Edwards to achieve a paperless office.
This webinar will take place on Thursday, December 22, 2011 at 2:00 EST and all are invited to register to attend: https://www3.gotomeeting.com/register/747296334.
Attendees will learn how IntelliChief electronic document management enables JD Edwards users to easily and securely store and retrieve documents in a timely and cost-effective manner; how they can eliminate paper from business processes; increase operational efficiency in areas such as purchasing, receiving, payables, human resources, customer service; and more.
Organizations spend hundreds of hours per year searching for misfiled documents, and 25% of these documents will never be located. Additionally, the costs associated with manual paper processing are so significant; this webinar should not be missed.
Register at: https://www3.gotomeeting.com/register/747296334.
About IntelliChief
IntelliChief, is the leading provider of Paperless Process Management (PPM) solutions for the IBM i (System i, iSeries, AS/400) Enterprise. With decades of expertise in the market and seamless integration with leading ERP software vendors, IntelliChief takes companies of all sizes paperless with a typical ROI of less than one year. Users can create, capture, manage, archive, retrieve, and distribute mission-critical documents directly from their familiar ERP screens, eliminating the need for filing cabinets, storage facilities, fax machines, copiers, and paper files.
###