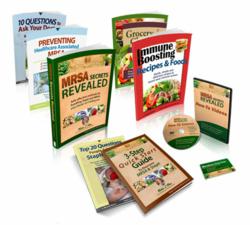 Drug resistant Staph infections (including MRSA) cause 1.2 million hospital infections every year (2007 APIC study)
Port Townsend, WA (PRWEB) December 21, 2011
Embrace Health, Inc. (a leader in Staph Infection and MRSA Treatment education online since 2008) announced a new educational program [launched worldwide on November 30, 2011] called the Recovery Program exclusively for sufferers of Staph Infections.
This Staph Infection resource is a comprehensive collection of educational works from Microbiologist Michelle Moore and is focused solely on natural antibiotic alternatives to Staph and MRSA treatment and a list of prevention options known to be successful.
According to the Centers for Disease Control (CDC), life-threatening MRSA infected 94,000 people and caused 19,000 deaths in the U.S. in 2005. Drug resistant Staph infections (including MRSA) cause 1.2 million hospital infections every year (2007 APIC study).
What is more alarming is that the majority of MRSA infections (86%) are healthcare associated while 14% are community associated infections (2007 Staph aureus and MRSA Surveillance Summary, Centers for Disease Control and Prevention (CDC)).
In addition to the above data, studies also show that Staph aureus bacteria are carried by 32% of people in the United States. MRSA infections however are caused by a particular strain of Staph that has become resistant to most common antibiotic drugs.
Experts now warn that MRSA and other so called "superbug infections" will eventually learn to resist even the newest and most powerful antibiotic drugs. A strain of MRSA bacteria resistant to the drug Zyvox (an antibiotic of last resort), was first discovered in 2008. This followed the emergence of Vancomycin Resistant Staph aureus (VRSA) in 1996, which is considered another "last resort" antibiotic. The World Health Organization has issued warnings that antibiotic resistant bacteria like MRSA threaten a global return to the pre-antibiotic era.
Michelle Moore states that "The Recovery Program provides effective methods for natural MRSA treatment and prevention with its strong emphasis on the use of antibiotic alternatives and integrative medical care.
The Program is a major upgrade to the company's flagship book MRSA Secrets Revealed which has ALREADY provided over 11,000 people with a comprehensive review of natural infection treatment options for Staph Infections.
Now, the program includes the books MRSA Secrets Revealed and Immune-Boosting Recipes & Foods along with additional topical resource guidebooks, and a highly informative DVD containing step-by-step how-to videos for specific prevention and control methods.
For additional information on MRSA infections and their prevention and treatment, visit the company's website at http://www.Staph-Infection-Resources.com. The Recovery Program and other informational resources on Staph and MRSA are also available from the company's website.
About Embrace Health, Inc.:
Embrace Health, Inc. was co-founded by Microbiologist Michelle Moore and specializes in informational resources for the control, prevention and recovery from Staph and MRSA infections.
Contact:
Michelle Moore, Co-Owner and Vice President
Embrace Health, Inc.
888-660-8944
http://www.Staph-Infection-Resources.com
The information in this press release is not intended to treat, cure, prevent, or diagnose disease or medical conditions, nor is it intended to prescribe forms of medical treatment. The author does not distribute medical advice and is not responsible for use or application of the information contained herein. Issues concerning health should be referred to qualified health care professionals. People who have health conditions, are pregnant, nursing, or have allergies, should consult a physician before beginning any health program.
###