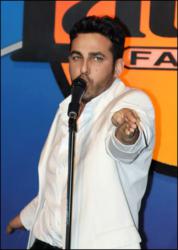 I knew from the moment I saw David's set for first time that he would be an unforgettable comic
Hollywood, CA (PRWEB) December 20, 2011
Although capacity seating at the Hollywood Laugh Factory is approximately three hundred, over four hundred and fifty fans lined up around a three block stretch of Sunset Blvd and Laural Ave. on Monday night, Dec 5th to see up and coming standup comedian, David Golshan, host "Comedy Bazzar" , the newest middle eastern themed night of standup comedy, at the Laugh Factory comedy club.
David Golshan, who's ethnicity is Iranian, religion is Jewish, and whom was born and raised in the United States, is touted as being the most candid, blunt, and controversial comedian of Persian decent.
David Golshan's most recent guest included superstar comedian Russell Peters.
Christina Shams, Laugh Factory Manager, said: " I knew from the moment I saw David's set for first time that he would be an unforgettable comic. His comedy is very dynamic and he has absolutely no problem speaking his mind- no matter how taboo or rated R the subject. I'm always interested to hear what wild thing he's going to say next! This is groundbreaking as a middle eastern comic, especially Persian. The Laugh Factory is the number one comedy brand in the world. We strive to find the best up and coming talent in the nation. David carries himself well among the industry leaders and I see great things happening for him soon."
Those hoping to buy a last minute ticket at the door were turned away on December 5th, but will get their chance to see David host the show again, when he welcomes comedian Maz Jobrani to The Laugh Factory Hollywood on Monday, December 26th at 10pm.
For interviews with David Golshan and/or for David Golshan comedy booking information, please contact:
Hasti Daneshvar
LAW OFFICES OF HASTI DANESHVAR
7095 Hollywood Blvd., #627
Hollywood, CA 90028
Phone: (323) 850-5801
booking(at)davidgolshan(dot)com
###