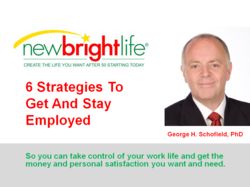 People over 50 can take control of their work lives and get the money and personal satisfaction they want and need.

Lakewood Ranch, FL (PRWEB) December 19, 2011
According to New Bright Life's founder George H. Schofield, PhD, many people over the age of 50 have lost their homes, investments, 401Ks, and the ability to count on continuous, reliable employment in today's economy. He goes on to state that as part of successful aging, a person should expect to make several changes over the course of one's work life which may include long term employment, a series of shorter term opportunities , or a combination of both.
At the same time, according to Schofield, money is not the only motivating factor for people seeking new employment. Additional factors include the need for:

health insurance
routine and structure
maintaining or creating one's ideal lifestyle
companionship or community
a sense of purpose
personal satisfaction
the enjoyment and stimulation that work can bring
Here are the 6 Strategies To Get and Stay Employed For People Over 50:
1. "Identify and Understand Your Priorities"
2. "Make Sure You Have Enough Education and / or Training"
3. "Package And Prepare Yourself Well"
4. "Reach Out In To Other People In Ways That Are Effective In Today's Marketplace"
5. "Remember That Long Term or Permanent Employment Is Unlikely"
6. "Find The Real Opportunities Out There, The Ones Suited To You And Your Priorities"
In addition to the video, there is also downloadable PDF Action Guide so people can use what they've learned in the seminar and begin their employment search right away.
To view the seminar and download the free Action Guide, visit:
http://www.mynewbrightlife.com/fe/19205-6-strategies-to-get-and-stay-employed-after-50
About New Bright Life, LLC
New Bright Life helps people find the employment they need, develop great relationships with family, friends, and loved ones, create their best possible futures, and navigate the challenges that come as part of life after 50. New Bright Life helps people over 50 create satisfying and meaningful lives by delivering innovative, lifestyle design approaches and problem solving tools to so people can navigate the common challenges and opportunities that most people will face as they get older:
having enough money for the rest of their lives
become a caregiver for a parent, spouse or loved one
minor and major changes in health and ability
being a great grandparent
living with adult children
getting divorced, married; a spouse or partner dying
wanting or needing to relocate
New Bright Life helps people learn how to live their best possible lives, whether life is going smoothly or if situations are forcing major life changes to happen.
Contact:
Benjamin Gioia
Vice President
New Bright Life, LLC
347-870-6502
ben(at)newbrightlife(dot)com
http://newbrightlife.com
# # #