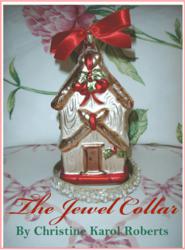 Review by: James K:
This book is outstanding.
It is the type of book that should be read to children and even adults. This book is warm and has an appreciation for pets and companions. The pictures are great for children to see.
Newport Beach, CA (PRWEB) December 20, 2011
Catherine Company announces publication of the hardcover edition of The Jewel Collar and Hannah the Hummingbird. Christine captivated children and adults alike all over the world with her first children's picture book, The Jewel Collar, which introduced us to an endearing group of animal friends who reside in a garden in California and protect each other. Aristotle, the main character receives a jewel collar that he decides to share with his friends. So begins Ari's tradition of sharing the jewels with new friends so they won't feel lonely. Together, the garden animals decorate their Christmas tree with the jewels so they can all share their treasure.
Hannah the Hummingbird is the follow up story and continues the charming tale of the Garden Friends Club.
Hannah the Hummingbird continues the story by introducing us to Hannah, the mother hummingbird who is getting ready to hatch her two eggs. Children of all ages and adults as well will enjoy reading about how Hannah builds her nest, how the eggs are hatched and meeting the two baby hummingbirds Hayley and Harry. The two baby hummingbirds are welcomed into the Garden Friends Club by Ari and the loyal menagerie of animals residing there. The bravery with which Hayley and Harry take their first flight reminds us all of the first time we left our warm and cozy nests to venture out into the world.
Ms. Roberts' delightful tale is one you will enjoy reading with your children. As a parent, you want your children to always feel safe. The animal garden friends of The Jewel Collar and Hannah the Hummingbird reinforces the idea that even though it isn't always possible for you to be there with them all the time, you will always surround them with love and with others who will watch over them as well.
With the popularity and demand for Ms. Roberts' first two children's books, Catherine Company decided to produce the books in full color hardcover edition for purchase on Amazon.com. These books are ones that all parents of young children should invest in. Purchase Christine Karol Roberts on Amazon or order the hardcover editions directly through the publisher, Catherine Company, at http://www.catherinecompany.co.
The Jewel Collar and Hannah the Hummingbird are also available for download at Amazon.com, Apple iBookstore, Smashwords, Barnes & Noble, Diesel and Sony ebookstores.
Here's what people are saying about the books:
Review by: j bees:
I also truly enjoyed this book Its a great book that you can read to your children as a family and I plan on doing so as it gets closer to Christmas so they can understand the meaning of Love and how it all ties in with the Holidays.
Review by: Sherry :
A very sweet story with beautiful pictures, will be reading this one to my grandson, thank you!
Ms. Roberts welcomes your comments as she would like to hear from all of her readers. She would be pleased to provide autographed copies of her books to any charitable foundations, hospitals, libraries and schools upon request.
About The Author
Ms. Christine Karol Roberts is a sole proprietor of an intellectual property law boutique with law offices in Orange County, CA. Her education includes graduation from the University of Texas at Dallas and The Southern Methodist University Dedman School of Law in Dallas, Texas. She established her law firm in 1985. Her law firm specializes in prosecution and litigation of Trademark and Copyright matters, Internet and domain name issues, Sports Law, Licensing and Technology Transfers, Right of Publicity and General Corporate Representation, both in California and in Federal and State Courts around the US.
Ms. Roberts is an avid tennis player, enjoys skiing, reading and gardening. She is the proud mother of two Maltese dogs, Aristotle and Alexander. She has been involved in many charitable organizations in Orange County and with her membership in the Society of Children's Book Writers and Illustrators.
Roberts plans to continue her thrilling children and adult book writing with a new release expected early 2012.
To learn more about Ms. Christine Roberts and her books visit http://www.catherinecompany.co and her website: http://www.ckrobertslaw.com
# # #