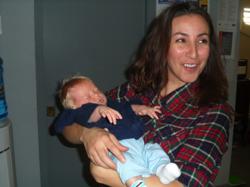 "There is a five-year wait for egg donors in Australia. To say there is a need is an understatement. We are going to meet this need." -Diana Thomas, CEO & Founder-The World Egg Bank
Melbourne, Australia (PRWEB) December 20, 2011
The CEO & Founder of The World Egg Bank, in Phoenix, Arizona meets with top fertility specialists in Australia to expand availability of fresh and frozen donor eggs for infertile women at the 14th World Congress on Human Reproduction in Melbourne, held earlier this month.
The four-day Congress hosted by the International Academy for Human Reproduction and the Fertility Society of Australia (FSA) attracted fertility specialists from around the world to discuss advancements in human reproduction, while considering the technical and ethical aspects of infertility and women's health.
For three years, The World Egg Bank, the largest commercial fresh and frozen donor egg bank in the world has partnered with the Queensland Fertility Group in Brisbane as its sole provider. "Frozen technology with eggs and embryos has improved vastly in the last five years. The Queensland Fertility Group has an outstanding record in helping women and couples experiencing infertility," said Diana Thomas, CEO & Founder of The World Egg Bank. "The Brisbane clinic is reporting a 50 percent pregnancy rate in using frozen eggs or embryos," Thomas added.
Studies have shown pregnancy rates using frozen oocytes (eggs) were comparable to those of cryopreserved embryos and even fresh embryos. While specialists have been using frozen sperm for more than three decades, it's only been in the last five years the techniques for thawing frozen eggs and embryos has become routine. Oocyte cryopreservation is used in women diagnosed with cancer who are undergoing treatment, infertile women, and those who want to preserve their eggs for future pregnancy.
Oocyte cryopreservation technology is advancing. In Melbourne, Thomas continued to strengthen TWEB's collaboration with Queensland Fertility Group while establishing new relationships and expanding availability of donor eggs into Australia.
"We are helping women in Australia whose only remaining hope to conceive a child is with donor eggs. There is a five-year wait for egg donors so to say there is a need is an understatement. We are going to meet this need," added Thomas.
In Australia and in Europe women do not get paid for donating their eggs. In the U.S. women are compensated between $3,500 and $5,000 dollars for their eggs.
Thomas is strengthening her connections in Europe and in the US. Earlier this year, Thomas met with experts in human reproduction research at the 27th Annual European Society of Human Reproduction & Embryology Conference in Stockholm, Sweden and the 67th Annual American Society for Reproductive Medicine Conference in Orlando, Florida.
TWEB also ships eggs to the United Kingdom and is finalizing a partnership with a fertility clinic in Ireland.
Once a fertility clinic partners with The World Egg Bank, its scientific director provides a complimentary demonstration of the state-of-the-art thawing technology in each new clinic's laboratory to enhance the lab technicians existing skills. "This results in achieving the best possible outcomes for their patients," said Thomas.
Since it's inception in 1997, The World Egg Bank has operated as a leading donor agency across the US and Canada, and remains one of the longest operating donor agencies in the country today. The World Egg Bank is at the forefront of scientific expertise with the oversight of a Scientific Board comprised of world-renowned fertility pioneers.
For those faced with infertility, The World Egg Bank strives to make building a family a simple reality.
# # #