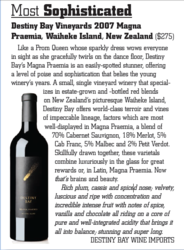 Offering a level of poise and sophistication that belies the young winery's years
Waiheke Island, New Zealand (PRWEB) December 20, 2011
Destiny Bay Vineyards announced today that the December 2011 issue of The Tasting Panel magazine for the wine and spirits industry selected Destiny Bay 2007 Mystae for the list of Most Outstanding Wines and Spirits of the Year and singled out Destiny Bay 2007 Magna Praemia as the "Most Sophisticated."
"We were delighted that a respected wine and spirits industry publication selected our wines for this honor," said Mike Spratt, co-founder of Destiny Bay Vineyards. "The classification of our Magna Praemia as 'Most Sophisticated' gives special recognition to our team's efforts to produce a wine of lasting elegance."
The Tasting Panel describes the wine as follows: "Like a Prom Queen whose sparkly dress wows everyone in sight as she gracefully twirls on the dance floor, Destiny Bay Vineyards 2007 Magna Praemia is an easily-spotted stunner, offering a level of poise and sophistication that belies the young winery's years." Of the winery, The Tasting Panel states it is, "a small, single vineyard winery that specializes in estate-grown and bottled red blends on New Zealand's picturesque Waiheke Island. Destiny Bay offers world-class terroir and vines of impeccable lineage, factors which are most well-displayed in Magna Praemia," a Cabernet blend in which the, "varietals combine luxuriously in the glass for great rewards or, in Latin, Magna Praemia. Now that's brains and beauty."
"To have our 2007 Magna Praemia called out as, "Most Sophisticated" in The Tasting Panel's annual review is an honor," said winemaker and owner Sean Spratt. "Our winemaking team has always kept a laser-like focus on producing complex and elegant wines. While we feel our wines achieve that mark, it puts a smile on our faces to know that a respected publication views our wines in the same light."
"2011 has been a year of critical praise for Destiny Bay Vineyards," stated Mark Feldman, owner of Destiny Bay Wine Imports in the U.S. "Top experts, including Anthony Dias Blue, The Editor in Chief of The Tasting Panel, have rated multiple vintages of these wines in the 90's with a recent rating of 98 points for the 2007 Magna Praemia by Mr. Blue, who described it as follows: "Rich plum, cassis and spiced nose: velvety, luscious and ripe with concentration and incredible intense fruit with notes of spice, vanilla and chocolate all riding on a core of pure and well-integrated acidity that brings it all into balance; stunning and super long."
About The Tasting Panel Magazine
The Tasting Panel magazine (Est. 1941) is the most widely circulated trade publication in the beverage industry, reaching an audience of thousands of key decision-makers every month and growing on an international scale. Regular features include: "Blue Reviews," authoritative scores and reviews of wines and spirits; "Industry Spotlight," highlighting innovators and leaders; "Steven Spurrier's Letter from London," from the world-renowned British authority; "Brief Encounters" and "Brand Spotlight."
About Anthony Dias Blue
Anthony Dias Blue is the Editor in Chief of The Tasting Panel (Est. 1941), former Wine & Spirits
Editor of Bon Appetit Magazine, and Executive Director for the San Francisco Wine and Spirits competition, the largest and most influential international spirits judging event held in the United States on an annual basis. Mr. Blue is the recipient of a 2001 James Beard Foundation Award as well as the 1997 Communicator of the Year Award from the prestigious International Wine & Spirits Competition in London. He is one of the most influential food and wine personalities in the
United States. His work in various media is circulated to more than 30 million global consumers and trade members each month. He can be found in print periodicals, on radio in New York and Los Angeles ("Blue Lifestyle Minute"), in bookstores and online.
About Destiny Bay Vineyards
Destiny Bay is a small, single vineyard, family-owned winery on Waiheke Island, New Zealand that specializes in estate grown and bottled blends of Cabernet Sauvignon, Merlot, Cabernet Franc, Malbec and Petit Verdot. Destiny Bay produces fewer than 2,200 cases per year of their three distinct blends, Magna Praemia, Mystae and Destinae. Destiny Bay is Waiheke Island's first fully certified Sustainable Winery & Vineyard (SWNZ).
Trademarks
Destiny Bay, the Comet, Magna Praemia, Mystae, Destinae and Dolce Suavi are registered trademarks of Destiny Bay Vineyards Ltd. Other names may be trademarks of their respective owners.
# # #