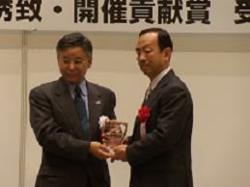 Herndon, VA (PRWEB) December 20, 2011
WMIS's World Molecular Imaging Congress 2010 has won the Japan's National Tourism Organization's (JNTO) award. The event was recognized as one of the country's most successful events.
WMIC 2010 was held at Kyoto International Conference Center and the event was recognized at the JNTO Award Ceremony held on December 14th, 2011 as part of the 21st International Exhibition at the Tokyo International Forum. Dr. Yasuhisa Fujibayashi accepted the award on behalf of the World Molecular Imaging Society (WMIS) that organized the WMIC2010.
"WMIC 2010 not only made history in promoting research and education in academic and clinical molecular imaging communities in Asia, it also enabled our industry sponsors and exhibitors to gain significant number of new leads and business opportunities," said Dr. Juri Gelovani, President of WMIS. "We are smashing the silos and leading the innovation convergence across the globe - and this award is a testament of that leadership," he added.
Kim Pierce, Executive Director of WMIS said, "We are so honored to win this award. It says a lot about what WMIC does for its sponsors. We are grateful to the JNTO and we are also thankful to the Kyoto Convention Bureau and its staff without whom this wouldn't have been as successful. This is the best gift we could have gotten this holiday season."
WMIC is the world's most innovative, science and technology led, event in the world. It brings world's top molecular imaging scientists, clinicians, technology experts, and business leaders together to define the future of the molecular imaging field. As the most exciting event in the field, it attracts participation from across the entire value chain of molecular imaging.
WMIC2012 will be held in Dublin, Ireland on September 5-8th, 2012. It is expected to be a power-event that will attract companies and institutions from Europe, Asia, Middle East, and Eastern Europe.
###