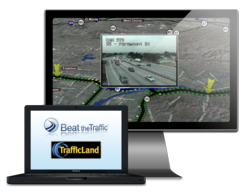 Our media customers and prospects have been asking for live video feeds for some time, and we responded by teaming with the undisputed leader in the field.
Fairfax, VA and Santa Clara, CA (PRWEB) December 20, 2011
Beat the Traffic®, a leading provider of real-time traffic information for broadcast media and mobile devices, and TrafficLand®, the largest authorized aggregator of live traffic video in the U.S., have signed an agreement that allows Beat the Traffic to incorporate TrafficLand's video feeds into its Beat the Traffic 3D solution for media partners. Effective January 1st, 2012, this unique partnership between two leaders in traffic technology will allow broadcasters nationwide to supplement their traffic reports with live traffic video in addition to other real-time traffic information.
Through agreements with more than 60 state and local transportation agencies, TrafficLand provides live traffic video feeds from more than 11,000 cameras worldwide, including coverage in 148 U.S. cities. Beat the Traffic 3D currently includes live but still traffic images, whereas TrafficLand's patented technology captures thousands of closed circuit television (CCTV) video feeds directly from the camera networks of local and state transportation agencies, standardizes them, and provides more reliable access with fewer delays. The new partnership represents a huge upgrade for Beat the Traffic 3D users, who can now air live video of traffic events as they happen.
"TrafficLand's offering is truly one-of-a-kind and a wonderful complement to Beat the Traffic 3D," said Andre Gueziec, CEO of Beat the Traffic. "Our media customers and prospects have been asking for live video feeds for some time, and we responded by teaming with the undisputed leader in the field. TrafficLand's patented technology, infrastructure and sheer amount of video feeds are truly second to none. We are thrilled to be working with them and I have no doubt our media partners will be pleased with the results."
"We are very selective about our partners, but TrafficLand and Beat the Traffic were meant to do business with each other," said Lawrence Nelson, CEO of TrafficLand. "Beat the Traffic has developed a truly innovative television broadcast solution for traffic reporting. They have recently signed numerous TV affiliates in a very competitive market and have established themselves as an industry leader. We are very excited with the opportunity to work with Beat The Traffic and believe that the combination of our products and technologies will offer television broadcasters a truly unique on-air traffic reporting capability. We hope that this partnership will result in exponential growth for both companies. The road ahead is very exciting."
About TrafficLand
Founded in 2001 and based in Fairfax, Virginia, TrafficLand is the largest authorized aggregator and distributor of live traffic video in the U.S. with 148 cities on its national network. The company's patented Image Engine® technology provides single-source access to live traffic video from more than 11,000 traffic cameras in the U.S. via contractual redistribution agreements with over 60 state and local transportation agencies. TrafficLand supports mobile applications—including the leading paid traffic app for iPhone and iPad—as well as traveler information websites, broadcast traffic reporting, navigation devices and a dedicated service for DOTs and public safety agencies to aid traffic management and emergency response. For more information visit http://www.TrafficLand.com.
About Beat the Traffic
Based in Santa Clara, California, Beat the Traffic® is the fastest growing provider of vehicle traffic reporting solutions in North America. Over one million motorists throughout the U.S. and Canada have downloaded Beat the Traffic's mobile applications, and the Beat the Traffic 3D system and software is currently used by dozens of television stations, cable providers, and newspaper groups for on-air, online and mobile traffic reports. Acclaimed for its visually-striking graphics, simple setup and user-friendly interface, Beat the Traffic is a recipient of the TVTechnology STAR Award as well as Television Broadcast magazine's Top Innovation Award. As the only independent provider in the industry, Beat the Traffic has sustained its rapid expansion via media affiliates by maintaining a relentless focus on technical innovation and state-of-the-art data modeling, coupled with the tools, service, and personalized attention the media needs to deliver a distinguished product in an increasingly "me too" environment. Triangle Software LLC, the parent company of Beat the Traffic, is a National Science Foundation funded early innovator in traffic prediction and presentation science. Beat the Traffic technology is protected by U.S. Patents Nos. 6,989,765, 7,161,497, 7,221,287, 7,375,649, 7,508,321, 7,557,730, 7,610,145, 7,702,452 and 7,880,642 and other pending patents. For more information visit http://www.beatthetraffic.com or http://www.trianglesoftware.com; watch our videos at http://www.youtube.com/beatthetraffic; or follow us on Twitter at http://www.twitter.com/btt3d.
For TrafficLand:
Jay Cohen
301-657-3234
jcohen(at)trafficland(dot)com
For Beat the Traffic:
Andre Gueziec
408-777-6530
andre(at)BeatTheTraffic(dot)com
###