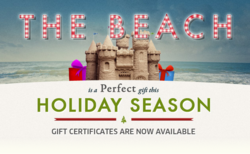 This year, some units are still available, so the sooner travelers book, the better their chances of being able to enjoy the beach this Christmas will be.
Gulf Shores, AL (PRWEB) December 21, 2011
The Gulf Shores area offers vacationers numerous things to do, and it is a popular summer destination with its beaches and summer attractions. Yet, the holidays are also an excellent time to consider planning a trip to this region. Brett-Robinson has many vacation rentals available with great winter discounts! Some Specials that are now available include the Girl's Getaway package, 3 Free Nights when you Extend your Vacation, and Gift Certificates through the end of the year.
Whether they are traveling for Christmas or the New Year or some other time during the early winter months, vacationers will find Orange Beach, Alabama offers numerous events and activities centered around the holidays.
Nearly every day of December offers some holiday celebration in Gulf Shores. Beginning with Christmas in the Park in early December to regular performances and specials at nearby restaurants and pubs, vacationers find plenty to keep them busy during the holidays when traveling to the Gulf Shores region, and the weather makes it possible to enjoy these events without the need to bundle up in too much winter gear.
Those who book Gulf Shores, Alabama vacation rentals in early December can enjoy Christmas in the Park. At this annual event, families visit Heritage Park to munch on free popcorn and hot cocoa while watching the lighting of the Christmas tree, hearing Christmas songs and stories, and visiting with the Jolly Old Elf himself.
The first weekend in December continues with the annual Christmas Parade and Beach Celebration. Here, lighted floats travel through the community, ending with a party at Gulf Shores Public Beach. This family-friendly event includes crafts, games, and fun for people of all ages, and is a highlight among vacationers.
The following weekend, those visiting the area can travel to Fort Morgan to take a step back in time. A 1912 Christmas shows what holiday celebrations were like in a bygone era. History buffs and families on vacation together will enjoy this annual event.
The New Year also brings its share of events to the area. Many local eateries and pubs will have celebrations to welcome in the coming year. Couples on vacation together will find this party scene quite entertaining.
With all that Gulf Shores offers during the winter months, it is quickly becoming a popular holiday destination. When asked about this, a spokesperson from Brett-Robinson said, "This increased popularity means that Gulf Shores, Alabama vacation rentals tend to book quickly during this popular travel season. This year, some units are still available, so the sooner travelers book, the better their chances of being able to enjoy the beach this Christmas will be. We want to urge those considering a vacation not to wait to book their unit."
About Brett-Robinson
Brett-Robinson is the leader in providing quality vacation rentals in and around Orange Beach, Alabama. Property owners and vacationers connect through Brett-Robinson to arrange rentals in this popular vacation spot. the company specializes in helping vacationers find the perfect Gulf Shores, Alabama vacation rentals to make their dream vacation a reality, and regularly offers specials as well. to learn more visit http://www.brett-robinson.com.
# # #