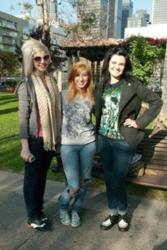 Los Angeles, CA (PRWEB) December 20, 2011
At the downtown Los Angeles campus of Fashion Institute of Design & Merchandising, students are cramming for finals, putting the finishing touches on design projects, and just starting to remember it's Christmas. They took time out of their busy lives to share their desires for peace, love, and fabulous gifts!
A bubbly group of Visual Communications majors had two words for friends and family: Jeffrey Campbell.
"Everyone at FIDM loves them!" says Morganne about the Los Angeles shoe designer's line. She has her eye on a pair of 6 ½-inch heels with 2-inch platforms that comes in a variety of weaves and patterns. Her friend Zara, who is wearing a pair of towering linen peep-toe Campbells, is pining for a wedge bootie style called "Damsel".
"Some people think they can't pull them off, but they're wrong," explains Zara, who zipped to the website solestruck.com to display the dizzying array of Campbell styles. "They pair with anything, jeans and a T-shirt, leggings, casual or dressy." And, according to students, the fun-filled shoes are comfortable!
Another group of Fashion Design majors also craves shoes, but their tastes run more towards unisex. The hot brand is TUK, and the style they crave is '70s punk rock Creepers. "If you can pull it off, you can wear them with everything," says designer Jade of the thick-soled flats with black and white graphic patterns around the edges.
Her friend Megan, also a Fashion Design major, agreed, before confessing to a serious crush on a pair of pricier Alexander McQueen ballet flats with skulls.
For design students who want to turn their love of shoes into a career, the fashion school offers an Advanced Study program in Footwear Design that includes a study tour to Italy where students meet with footwear executives and tour factories. FIDM Grads work in the industry at companies like Donald Pliner and Charles David.
The only category that rivaled shoes in popularity was electronics. Among Digital Media and Graphic Design majors, wish lists included anything Mac, tablets for drawing, large video monitors for working on game designs at home, a pair of Yamaha speakers, Dr Dre Beats headphones, and plenty of Kindles.
And then there's the gift that never goes out of style for college students at the end of finals week.
"I just want a good night's sleep," says Fashion Design major Blake. His friend Graham agreed. "I asked my parents for a futon," said the weary but wise Visual Communications major.
With four dynamic California campuses, FIDM/Fashion Institute of Design & Merchandising is the premier west coast fashion design college, educating for careers in fashion, graphic design, interior design, and entertainment. FIDM's graduates include renowned fashion designers like Monique Lhuillier, Emmy® and Academy Award® award-winning costume designers, top fashion industry executives, and entrepreneurs.
# # #