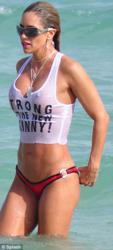 New York, New York (PRWEB) December 20, 2011
Once fat and frumpy, Jennifer Nicole Lee found herself in the footsteps of many new moms. However, she got sick and tired of the yo-yo dieting that she claims mainstream media brainwashed her and many other women before her to believe. This new overweight and lethargic mom made it her mission in life to find the secret weapon to healthy boundless energy, as is she was Columbus looking for the fountain of youth. JNL spent years in research and discovery, to find that it was the perfect delicate balance of strength movements infused with super spiking cardio bursts, thus giving birth to her tried and true training method, now called JNL Fusion. She explains, "I hated to see so many men and women, and especially moms, give so much of their precious time to a workout, and not get results. I made it my life's goal to create a method that worked, time and time again, and the more you do it, the better you get! It's for all fitness levels, and even for professional athletes and super fitness models and competitors. My JNL Fusion method is my lifelong gift to the fitness industry and to all those who try it."
Not only is it her gift, but as the "Grand Master" of this method, she now is certifying choice select fitness professionals, personal trainers, and wellness enthusiasts in her exclusive method. She holds an annual JNL Fusion world conference, where women and men come in from all over the globe to be trained by JNL one-on-one. She will also host her "Fitness Model Factory" seminar, based off of her internationally recognized Fitness Model Factory production studio, where she daily produces, films and photographs her beauty, glamour, fashion and fitness campaigns. Her magazines are also talk of the entertainment business, as many top notch publications are seeking her out for her strong sexy physique including the number one female fitness magazine Oxygen magazine, as she recently celebrated her 3rd Oxygen cover, which was her 45th magazine cover.
In closing, JNL explains what truly makes "[Strong the New Skinny", backing up her JNL Fusion workout method. "See before, I worked out just to lose weight. But with the JNL fusion workout method, I train to gain! To gain stamina, energy, endurance, and a new identity as an athlete. The athletic drills are so unique and innovative, that many sports agents have sought out my method for their training camps, and high profile and handsomely paid athletes. Im truly honored to have gone from a lost mom to a living mentor to millions with JNL Fusion. And my favorite moves are the 'Titanium Tucks', 'Hot Coals', and 'Snatch & Grabs', as they truly push me and all who do them to be their strongest, sexiest, fittest best."
For more info, visit http://www.JenniferNicoleLee.com & http://www.JNLFusion.net
# # #