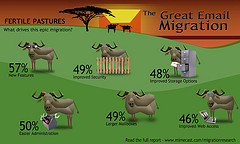 Three quarters (77%) of companies plan to upgrade their email system in the next 2 years
(PRWEB) December 20, 2011
Email security and management company Mimecast recently commissioned research company Loudhouse to survey 500 IT decision makers and ask them about their plans to migrate to the safer, more secure and robust Exchange 2010 from their existing Exchange platform. Security was one of the main factors driving the desire to upgrade.
Email has become a cornerstone of modern business communications and a critical part of the day-to-day workings of employees. Email security, archiving and data integrity are key to the success of businesses. The ending of support for Microsoft Exchange 2003 and the clear benefits that Microsoft Exchange 2010 offer have fuelled a rush to upgrade email systems by a large number of companies. The study found that the desire to upgrade is tempered by the risks of losing valuable data and potential downtime. In order to mitigate this risk, Mimecast has launched its Exchange Migration Continuity service.
Some of the findings of the study are:

Three quarters (77%) of companies plan to upgrade their email system in the next 2 years – 57% in the next 12 months
Of those planning to upgrade in the next 12 months, 62% are planning to move to Microsoft Exchange 2010 – on premise, whilst 21% are opting for hosted Microsoft Exchange and 13% Office 365
Despite the initial cost, a third (34%) of companies expect to recoup the costs in the first 6 months, with a further 39% recovering the cost within the year
The study also found that the US has the greatest urgency to change email systems, with 35% planning to upgrade in the next 6 months and a further 30% stating a desire to upgrade within the year. While not quite universal, Exchange 2010 is by far the most common planned upgrade with 83% of those looking to move to this in the next 12 months. Alternative cloud-based email systems (3%) are being actively planned by a just minority of firms, showing that Microsoft Exchange is set to remain the dominant provider of email solutions for some time to come. Ensuring continuity during and after a migration is key and this is why Mimecast launched its continuity service for Exchange migration.
For more information on Exchange Migration Continuity, the new report or any Mimecast email security, archiving or related service, please visit the Mimecast Site.
###