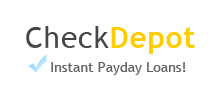 Check Depot ceaselessly strives to ensure consumer protection by adding free informational resources to the payday loan process.
Los Angeles, CA (PRWEB) December 20, 2011
The economic downturn has hit consumers all across the United States. With this in mind, Check Depot has re-launched with the goal of matching consumers with reliable and convenient payday advance lenders all throughout the country. Using new educational resources and a large network of payday lenders, getting a payday loan has never been safer or easier.
"Check Depot ceaselessly strives to ensure consumer protection by adding free informational resources to the payday loan process," says Check Depot spokesperson Lesley O'Connor. "Numerous articles explaining the various aspects of payday loans, from applying to repaying, as well as an easy-to-complete application help keep Check Depot in the elite class of loan portals online."
Consumers can begin the payday advance loan process by filling out a simple form on the Check Depot website. Once this form is completed, consumers are then pre-approved with many of Check Depot cash advance lenders. Check Depot is dedicated to matching consumers with the right short-term loan lender for their needs. And to accomplish this, Check Depot has compiled an expansive database of reliable lenders to match every financial situation. Once a consumer and lender have been matched, the consumer is taken directly to the lender's website. It is here that the consumer is shown the loan amount, interest rate, and repayment terms. When accepted, the loan money will then be deposited directly into the consumer's checking account within twenty-four hours.
Before making any financial decision, it is important to be completely aware of what this decision will entail. New articles are available on the website and help inform consumers on the loan process and even how to best use the funds of a payday loan. Education leads to responsible borrowing habits, which is why all articles are free to view regardless of whether a user applies for a loan or not.
Choosing to use Check Depot to find a lender instead of applying for a traditional loan has many benefits. First, the consumer's credit score is never checked or accessed in any way. There is no need. The consumer's stable job is all that is considered. This allows consumers from all financial stations to get the money they need today. The second benefit is that it takes far less time to be approved for a cash advance than it does for a traditional loan. It only takes minutes for Check Depot to provide approval. This holiday season, Check Depot has created the most convenient and secure way to get immediate debt relief.
###