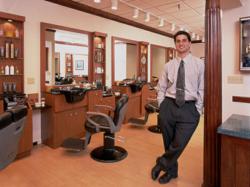 Learn how to cut men's hair with over 15 hours of HD video footage, step by step haircutting guides and diagrams - all streaming direct to your computer anywhere in the world, 24/7!
Delmar, NY (PRWEB) December 20, 2011
Interested in learning how to cut men's hair? Currently enrolled in barber school and looking to supplement a barber education? Thinking about opening a barbershop? Are you a cosmetologist looking to cut men's hair? Considering a career as a barber? Study online with Masters of Barbering and learn the finest techniques in men's haircutting while increasing commissions and tips, or profits for any barbershop/hair salon.
Masters of Barbering represents the finest in online barber education and is proud to unveil it's new interactive website. With over 15 hours of HD barber education videos, step by step mens haircutting guides and other educational resources, Masters of Barbering is a complete educational system for learning how to cut hair.
With Masters of Barbering you can learn to craft popular mens hairstyles including tapers, fades, clipper cuts, scissor cuts, razor cuts, and more. In the shaving section you will learn how to perform hot lather straight blade shaves. In the tools of the trade section you will learn about all of the tools you will need as a barber, such as clippers, combs, razors, towels, hair care products, scissors and more. The haircutting techniques section teaches all of the barbering techniques it takes to create men's haircuts.
Visit http://www.MastersofBarbering.com to find out why this educational program is attracting members from Hawaii to Maine, Canada to the United Kingdom, and from Switzerland to Indonesia. It is Masters of Barbering's mission to teach as many barbers and hairstylists around the globe the classic barbering techniques and haircuts that have been around for centuries. This system of cutting hair has been featured in the "Top 5 Men's Haircut in The World" category in Four Season's Magazine, Travel and Leisure Magazine, and Where Magazine.
Masters of Barbering is partnering up with innovative barber and cosmetology schools throughout the world who are committed to giving their students the very best in men's haircutting education above and beyond the licensing requirements. These schools are providing current students with a membership included in their student kit at a special price as well as marketing memberships to alumni through the Masters of Barbering Affiliate Program which will also give partner schools an additional source of revenue.
Masters of Barbering operates a free daily blog for barbers containing tips, tutorials, advice, resources and insight.
All of the barber classes stream instantly to any computer. Masters of Barbering does not produce barber DVDs because it is constantly updating it's courses with new information and content. Masters of Barbering will be producing it's first barber textbook and ebook in 2012.
Masters of Barbering was developed by award winning third generation master barber Greg Zorian. Zorian is the founder of several successful Gregory's Barbershops in upstate New York. As a working barber dedicated to the craft of barbering, Zorian is in demand as an educator and workshop leader. Zorian has acted as an international educator for Oster Clipper Company and has traveled throughout the USA and Canada giving presentations at beauty / distributor / trade shows throughout his career.
Zorian has given presentations for the Paul Mitchell School, the Orlo School of Hair Design, Di Grigoli School of Cosmetology, and Austin's School of Spa Technology among others. Zorian is a Associate Member of American Association of Cosmetology Schools (AACS) and has been profiled in the current and previous editions of the Milady's Standard Professional Barbering textbook.
Masters of Barbering offers a revolutionary way to learn how to cut men's hair. Start streaming barber videos within 1 minute of registration!
###