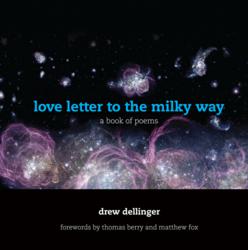 Drew Dellinger is one of the most creative, courageous and prophetic poets of his generation. Cornel West
Ashland, OR (PRWEB) December 21, 2011
Poet Drew Dellinger has been on the frontlines of social change movements for the last 20 years. His new book of poems, "Love Letter to the Milky Way," is being released this month by White Cloud Press. In November, during the Occupy Wall Street demonstrations in Oakland, award-winning filmmaker Velcrow Ripper captured Dellinger's latest poem, "Occupy Wall Street."
The heart of Dellinger's message is that "every person is sacred, every worker is sacred, every being, every forest, every tree, every river, every ecosystem is sacred . . ." and that the demonstrators are on the streets "manifesting our love and making it real in action." His poetry brings together the interconnections between spirituality, ecology and social justice.
As the Occupy Wall Street movement has spread far beyond New York City, much of the mainstream media has had trouble making sense of a leaderless movement. The protesters touched a nerve by boldly protesting the inequality and unfairness of the American economic order and the unholy alliance between Wall Street robber barons, Washington politicians, and corporate lobbyists.
For two decades as a speaker and poet, Drew Dellinger has been planting the seeds of creative transformation that are blossoming all around. In 2001, Dellinger first performed a poem entitled "democracy's at a crossroads," in which he wrote, "We need global citizens for some sit-ins again. I say we all meet on Wall Street and lock down – lock the whole block down!"
Ten years later, in November 2011, at the Occupy Oakland General Strike, Dellinger shared his new "Occupy Wall Street" that sampled a line from the earlier "democracy's at a crossroads." Velcrow Ripper's video has gone viral after being posted online by "Mother Jones," and "YES!" magazines, as well as numerous other blogs. Thousands of viewers have seen the video online. The poem is also posted on Dellinger's website.
In the opening poem of, "Love Letter to the Milky Way," Dellinger writes:
"it's 3:23 in the morning
and I'm awake,
because my great great grandchildren
won't let me sleep,
my great great grandchildren
ask me in dreams
what did you do while the planet was plundered?
what did you do when the earth was unraveling?
did you fill the streets when democracy was stolen?
Speaking of this moment of political, economic and environmental crisis, Dellinger says, "The global Occupy movement is an unprecedented expression of an even larger cultural awakening. Movements for ecology, social justice, and economic justice are converging in ways that are challenging our basic worldviews and prompting what Dr. King called 'a radical revolution of values.' This new energy proves that even in this time of crisis, the people's creative response can be equally dramatic."
With "Love Letter to the Milky Way," Dellinger takes readers on a journey into the emerging new universe story, with all its glory and suffering, mystery and meaning. Here you will experience not only the call to oneness and wildness, you will also come to rage against the forces of injustice and greed that threaten to extinguish not only species but the beauty of the world itself. These are poems written for this moment while speaking to a timeless sacredness at the center of life and the cosmos.
Dellinger's poetry of sacred unrest has been praised by the likes of Cornel West, Alice Walker, Brian Swimme, Susan Griffin, Joanna Macy, Paul Hawken, Rev. Osagyefo Sekou, and Rabbi Michael Lerner.
Dellinger sees hope in the middle of the crisis: "Before our very eyes we are seeing social change come alive. The 99% are being inspired to take the power of story and bring it to life through action. The action is all of us in the community coming together to co-create a better tomorrow for our 'great great grandchildren.' History is being made today."
###