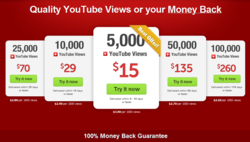 Ottawa, ON (PRWEB) December 21, 2011
Buy Real Marketing's premier YouTube service, Buy Real YouTube Views announces its latest update to date. A pioneer service online to leverage advertising space to drive traffic to YouTube videos, Buy Real YouTube Views, started in midyear 2010 and has built a strong reputation for itself among its competitors as the no. 1 provider that can garner quality views to its clients especially in driving quality YouTube views.
Buy Real YouTube Views utilizes only real people without the use of any kind of bots. Many of its clients profit from this type of YouTube marketing technique as the most optimal process of presenting products to its audiences. Buy Real YouTube Views guarantees its clients that it provides top quality YouTube views or their clients get a money back guarantee. No questions asked, if a client is unsatisfied with the quality of service, management will return the money back all within the promised time.
JP Bisson, Managing Director of Buy Real Marketing said "We saw the opportunity to help businesses grow and become successful through YouTube views. Which is why, we want to introduce our best offer to them. For only $15, our clients can achieve an immediate campaign of 5,000 views. Also, if our clients are unsatisfied with our services, we offer a 100% Money Back guarantee. Our company highly values our clients and their feedback."
Buy YouTube Views also offers other packages to suit any budget: $29 for 10,000 views, $70 for 25,000 views, $135 for 50,000 views and $260 for 100,000 views. With the help of this service,
YouTube advertising is easy and hassle free. It can provide the opportunity to boost sales, widen the awareness of the video and its method is 100% safe and risk-free. Given the expertise of the company, videos applied for this service have never been banned or flagged. Unused advertising space is no longer considered useless, but an efficient tool to drawing more attention to the YouTube videos.
Buy Real YouTube views also offers other services such as YouTube ratings, subscribers, favorites, comments and friends. It has sister companies that offer similar services such as Buy Real Fans and Likes, Twitter Followers and the like. For more information about Buy Real YouTube Views and its other services, visit their website at http://www.buyrealyoutubeviews.com.
About
Buy Real Marketing is wholly owned by Clicking Labs, Inc. Clicking Labs is a well established internet marketing company founded in 2010 by Jean-Patrick Bisson, Diana Quartin and Jonathan Kennedy. The company specializes in driving search marketing and social media traffic, social web app development and conversion optimization. Each product or service specifically helps small/medium website owners increase online visibility and improve online sales.
###