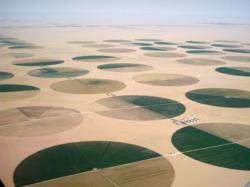 Agriculture @ Life-Sciences.net
(PRWEB) December 21, 2011
The Agricultural Sciences Social Network Life-Sciences.net features the latest scientific publications in the basic and applied life and earth sciences including biology, agriculture, forestry, the environmental sciences, and the health sciences. The Agricultural Sciences category of the Life-Sciences Social Network covers the cultivation and production of crops, raising of livestock, and postharvest processing of natural products. This section currently contains over 80,000 articles. A great part of these contributions derive from almost 250 international scientific journals covering this discipline.
One of the latest inclusions aims to identify simple sequence repeat markers tightly linked to plum pox virus resistance in apricot. This is significant since Sharka disease, caused by the plum pox virus (PPV), is one of the major limiting factors for stone fruit production in Europe and America and attempts to stop the disease through the eradication of infected trees have been unsuccessful. Development of PPV resistance for crop improvement is consequently an important goal in apricot breeding programs. Screening of seedlings at early stages of development and marker-assisted selection (MAS) provide a solution for enhancing breeding efficiency. The authors generated 42 simple sequence repeat (SSR) markers from the peach genome assembly and an apricot bacterial artificial chromosome clone identified in the physical map of the PPV resistance locus previously defined in apricot. Using a linkage mapping approach, they found SSR markers tightly linked to PPV resistance trait in all their progenies. This appears to be the first successful application of their use in MAS for breeding resistance in Prunus species.
Another article deals with the variability of shoot architecture in plants which is one of the most extreme examples of adaptive growth in higher organisms. The article on major transitions during stem development points to the importance of flexibility in stem growth which contributes to this variability. The regulation of major events in stem development is, however, largely unexplored. In the author's review they summarize the understanding of initial patterning events in stems and discuss prerequisites for the initiation of lateral stem growth. They point to novel approaches exploiting knowledge from root and leaf development which are currently are starting to shed light on molecular mechanisms that regulate this essential plant organ.
The Agricultural-Sciences Social Network Life-Sciences.net was established to discover and share scholarly and popular content in the basic and applied life and earth sciences including biology, agriculture, forestry, the environmental sciences, and the health sciences.
While the very latest Agricultural Sciences content is rarely older than a few minutes, the front page of Live-Sciences.net usually presents stories submitted ca. 20-60 minutes ago. All categories including that of Agriculture feature RSS Feeds. The site's own search function enables users to search for specific keywords or phrases. For every story displayed, this search functionality automatically suggests up to 10 related articles which are displayed sorted by relevancy.
Life-Sciences.net maintains the increasingly popular Twitter account @Life_Sciences_ which currently features 88,258 tweets and 1,262 followers. The Agriculture category is represented by Twitter's @AgricultureMag featuring 23,441 tweets and 378 followers.
###