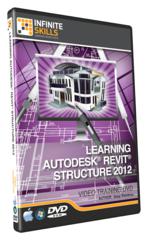 Makes Learning Revit Structure Easy
(PRWEB) December 22, 2011
Software training developer InfiniteSkills Inc has announced the availability of its new Autodesk Revit Structure 2012 Tutorial Video series, which includes 7.5 hours of guided instruction from Jay Polding, a leading author, teacher and consultant in the field of Building Information Modeling (BIM). Starting with a basic architectural outline and moving through the creation of foundations, columns and framing, the training is focused on real techniques used by structural engineers in a professional environment. Following courses on Autodesk Revit Architecture and Revit MEP, it is the fifth Revit tutorial created by the company.
"Professional quality Revit training has never been in higher demand," said Colin Boyd, sales director for InfiniteSkills. "After the success of our prior Revit tutorials and many outright requests, we're excited to now release an beginner-level course for Revit Structure."
Autodesk Revit Structure 2012 Training Videos - Tutorial DVD
Boyd said the course was created to help viewers take existing designs from architects and produce viable, true-to-scale structural plans that can be analyzed, tested and advanced into construction. Through 21 chapters, the Revit Structure tutorials examine individual components of the program, starting with installation, configuration and the user interface, and then moving through its fundamental design tools. Viewers learn how to create levels and grids as functional guides and then build walls, columns, foundations and beam systems using true-to-specification components and techniques. The Revit training moves through bracing, floors and slabs, roofing, stair types and structural rebar, too.
Because the strength of BIM software is in planning as much as design, instructor Polding shows how to organize a Revit Structure project into accessible sheets, including a representative cover sheet, specific elevations, and split-up plans, sections and details. He also shows how to use Revit to track schedules of materials that can be carried over into planning and assessments of cost.
"Jay is such a good Revit instructor because he understands how Revit is used by real architects and real engineers, on its own and in conjunction with other CAD tools," said Chris Johns, content coordinator for InfiniteSkills. "While still staying accessible to the beginner, he's able to use examples that show how Revit can help the viewer get actual work done, with impressive results."
An Autodesk Certified Implementation Expert (ICE), technology trainer and prolific writer, Jay Polding has worked with professional engineering and architectural firms for 15 years. In addition to his Revit in Plain English blog, numerous conferences and sold-out seminars, Jay has produced detailed tutorials for Revit Architecture and Revit MEP for InfiniteSkills.
The complete Autodesk Revit Structure 2012 Training Video series can be purchased or downloaded from the InfiniteSkills website with a retail price of $99.95. Both editions are playable on Windows and Mac operating systems and feature complete datasets that match those used by Polding throughout the course. Additional information about the Revit Structure tutorials, including a list of all lessons and 20 free demo videos, can be found on the product page.
http://www.infiniteskills.com/training/learning-autodesk-revit-structure-2012.html
About InfiniteSkills Inc
InfiniteSkills is a leading provider of video training on popular software, programming languages and technical skills from the best teachers in the world. In addition to physical media, the company has actively pushed to publish its tutorials to eLearning and mobile app formats.
###