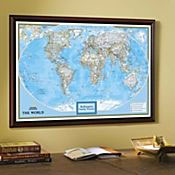 San Jose, CA (PRWEB) December 21, 2011
MapsofWorld.com, one of the leading companies in maps and educational apps, has announced that its online map store will now offer personalized wall maps by National Geographic.
Perfect for any office, living room or classroom, the maps are available in two styles: Earth-toned and classic. While the classic style is good for general use, the Earth-toned color palette will appeal to those who love a classic look.
There are different personalization options for maps of the World, the United States, Europe and more. Customers can choose a caption, including its color and size, which is then printed on demand. The package also includes pins in five different colors, to mark special places on the map. Frames are also available in a variety of colors and materials.
The company's e-commerce division lead Gaurav Shukla said, "Standard wall maps can get a bit restricted, especially when it comes to the appearance and utility. Including National Geographic's superior wall maps allows us to create a valuable educational product."
The maps are currently shipped within the U.S. only. Visit the company's map store website for more details.
About the company:
MapsofWorld.com is a multilingual portal offering high-quality maps and information across geographies and platforms. With special focus on educational content, the portal has thematic as well as interactive maps on all major platforms: Web, iPhone, iPad, iPod, and Android. World Atlas and World Quiz are two highly successful educational apps, having seen more than 50,000 downloads already. Other services offered are Custom Mapping, Content Digitization, and the Online Map Store.
For more information, please contact:
MapXL Inc.
10 S, Third Street, Suite 310,
San Jose, CA 95113
mani(at)infobase(dot)in
###