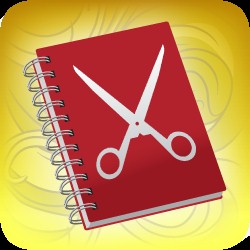 The MyChair App excels in keeping stylists and salon owners in touch with customers and eliminating their paperwork.
St. Louis, Missouri (PRWEB) December 20, 2011
The MyChair App, the number one selling salon app for iPhone and iPad that allows hair stylists to manage their clients directly through their iPhone, wants to give independent hair stylists a new way to manage the busy holiday season.
With college students coming home and people wanting to look their best for Christmas and New Year's Eve, the holidays are a very busy time for hair stylists. This is especially true for stylists who must maintain their own schedules and keep track of their many clients, all of whom have unique hairstyles and formulas that can be difficult to record and keep track of in logbooks and laptops. MyChair gives hair stylists a simple tool for managing all of their client information.
"We created the MyChair App with the help of stylists, and it really excels in keeping stylists and salon owners in touch with customers and eliminating their paperwork," said Jeremy Wesley, founder of J3 Software, the company that designed the MyChair App. "The holidays are the busiest time of year for stylists. They can use MyChair to send out quick messages to customers to stay in touch and also reach out to those they haven't heard from in a while. And the app stores all of the information they need to run their business."
The MyChair App allows stylists to keep all of their client information in one place, meaning they can quickly access notes like contact information, preferred method of communication, the name of the person who referred the client, allergies, hair formula, style history and appointment dates.
"A major concern for stylists is the ability to quickly access a customer's hair color formula," said Wesley. "The app makes that very easy."
Some of the other features of the app allow users to:

Quickly send promotions via e-mail or text
Sync contact appointment dates and times with the iPhone day calendar
Generate reports on scheduling and income data, which can be exported
Send out quick check-in and reminder messages to clients
Search for any of the data entered into contact information
The MyChair App is available worldwide to anyone who speaks English. It can be downloaded from the iTunes store here: http://www.mychairapp.com/itunes.html. Stylists, salon owners and others also can follow MyChair on Facebook and Twitter.
About MyChair
MyChair is an iPhone and iPad paid app that helps professionals in the beauty industry keep track of their clients, appointments, and histories. It allows quick access to client information and appointment schedules as well as communication through e-mail or text. MyChair is available for download from the iTunes store here: http://www.mychairapp.com/itunes.html
###