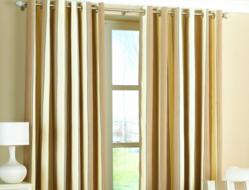 Excellent Christmas gifts to friends and family
Harrogate (PRWEB UK) 22 December 2011
Yorkshire Linen has announced that new lines of quality cheap curtains have just arrived in store in time for Christmas. The new range includes ring top curtains and pleat curtains made from polyester and cotton, and can be ordered in several different sizes. Matching cushions are available for some lines for those finishing touches.
Curtains are an essential part of home décor and make excellent Christmas gifts to friends and family as well as Christmas renewal gifts for the home. In the cold winter months it is extremely beneficial to have extra thick or lined curtains to keep the warmth in the room, particularly in windows with single glazing. This can make a significant difference to heating bills saving homeowners money that are better spent elsewhere and is an environmentally friendly way of keeping your house warmer.
With Christmas there might even be more rooms of the house are being used with family or friends staying and you will certainly feel the benefit of thicker curtains. Warmth moves from warmer to colder areas in the house and thus the heat from the radiators will migrate to colder rooms and windows. By stopping the warmth before it reaches the colder area of the window, rooms stay warmer as the warmth isn't wasted on the continuous cold air which is coming through the window.
About Yorkshire Linen
Yorkshire Linen is a family run business with a Head Office in Harrogate, North Yorkshire and was founded in 1993. The company is a leading provider of high quality curtains and bedding as well as other soft furnishings and prides itself on outstanding customer service.
# # #