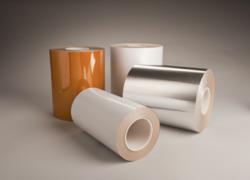 Polyonics halogen-free engineered tapes are specifically designed composites using FlameGard™ technology to effectively control heat, oxygen, material decomposition and the generation of flammable gasses.
Westmoreland, NH (PRWEB) December 30, 2011
Polyonics has recently introduced a family of flame retardant tapes that have been tested for compliance to the UL94 VTM0, FAR 25.853 flame retardant and BSS 7238/7239 smoke and toxicity standards. These tapes have proven to help aerospace customers prevent fires in avionics.
The risk of fire from electronics, electrical and electromechanical devices (batteries, power supplies, motors, etc.) is real and not going away. This is especially true in avionics where more power is being housed in smaller spaces, duty cycles are ever increasing and the need to protect lives is paramount. Designing with materials that do not propagate fire such as flame retardant tapes effectively addresses this need.
Understanding How Polymers Burn
Polyonics understands the chemistry and combustion of polymers and has developed a wide variety of flame retardant tapes to address a spectrum of applications. Polyonics flame retardant tapes help prevent the propagation of fire through the unique FlameGard™ technology. The technology includes advanced resins, polymers and adhesives that both increase the dimensional stability of the tapes and create a unique char layer that acts as a heat shield to:
Lower temperature
Remove oxygen
Reduce concentration of flammable gasses
Slow rate of thermal oxidation
Minimize thermal degradation
Prevent propagation of fire
The Chemistry of Burning
The burn cycle diagram (upper right) depicts how heat contributes to burning (combustion). It also illustrates the areas (X) where the chemical mechanisms, incorporated in the Polyonics FlameGard technology, actively help retard the burn cycle.
Heat causes thermal degradation of polymers which in turn generates flammable gasses (fuel). Burning occurs when this fuel combines with oxygen in the presence of an ignition source. The process generates additional heat and gases creating a self-sustaining burn cycle.
The temperature chart (second from top at right) illustrates the role temperature plays in accelerating this cycle. At temperature (T1) very few of the molecules (area under the curve) have enough energy (activation energy Ea) to burn. Adding more heat raises the temperature to (T2) causing more molecules to have enough energy to become fuel and burn.
At (T3), the majority of molecules have become fuel and a sustainable fire is likely. Conversely, if the temperature can be lowered from (T3) to (T1), the fire will self extinguish. Polyonics employs resins and polymers that are dimensionally stable and don't generate significant amounts of flammable gasses when exposed to heat and flame. In addition, upon initial combustion, the fire retardant
tapes create a char layer (Diagram 1) that acts as a heat shield (physical mechanism) slowing the rate of thermal oxidation and reducing thermal degradation.
Polyimide, Polyester, Aluminum Tapes
The single coated, linered tapes include 1 and 2 mil polyimide and 2 mil polyester films and 2 mil aluminum foils. One tape also includes ESD HardCoat™ electrostatic dissipative properties using Polyonics' proprietary TriboGard™ technology. Other custom constructions are readily accommodated. The tapes include a wide variety of liners to compliment different die cut processes.
Best to Test Tapes in Customer's Environment
Aerospace flame problems are complicated and, with few proven solutions available, engineers and manufacturers are frustrated. Polyonics has the right flame retardant materials and welcomes the opportunity to sample the tapes for you to test in the exact environment where they will be used.
Tell us about your application and we'll...
Review the specs
Select the best tape(s) for your application
Send samples for evaluation
Work with your team until you have the right flame retardant tape to solve your application…once-and-for-all
For more information, please contact Dave Genest at:
Tape.Expert@ polyonics.com
603-352-1415
###