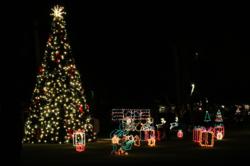 We couldn't ask for a better start to 2012
Hilton Head Island, SC (PRWEB) December 22, 2011
Hilton Head Island is ablaze with holiday lights, shows, and displays everywhere you look, resulting in a record number of vacation rental reservations for 2012, according to The Vacation Company, a long-time local vacation rental agency. This year kicked off the pre-Christmas season with Harbour Town Lights, a lighting-of-the-tree fête, complete with lighted reindeer and Santa displays all along the green, Gregg Russell singing under the Liberty Oak to throngs of children, as well as the iconic red and white lighthouse strung with white twinkle lights. With temperatures surging into the high 70's locally, vacationers in colder locales have been calling and emailing in soaring numbers for beach property rates and availability.
"We couldn't ask for a better start to 2012," says Bob Hawkins, co-owner, The Vacation Company. "Each year, we see growth, while the normal vacation season seems to extend into more vacation weeks on both ends; early spring into late fall."
This could also be attributed to Hilton Head's rise to the top of the destination resorts list, as more people hear and read about it internationally in magazines such as the Robb Report, and Condé Nast Traveler. With family events such as food, arts, and cultural festivals almost every weekend throughout the fall, tennis tournaments going on through the winter, a renowned golf academy, and the Royal Bank of Canada Heritage Golf Classic in the spring, the uniqueness of the island and it's off-season appeal has reached a far-ranging audience.
Hilton Head Island is renowned for endorsing an outdoor-geared lifestyle, long-term conservation efforts, as well as an enduring family-friendly atmosphere. These goals have been maintained by strict town building codes (trees and salt marshes left alone throughout major development), and an agenda of promoting outdoor, family-oriented activities such as tennis, golf, fishing, kayaking, swimming, parasailing, paddle-boarding, outdoor live entertainment for children, like Gregg Russell and Shannon Tanner, and endless miles of paved bike trails gliding through lush woods and golf courses.
The Vacation Company is a rental agency committed to providing top-quality service and accommodations to island visitors, family vacationers, and property owners. With over 20 years experience managing Hilton Head's luxury home and villa rentals, The Vacation Company remains one of the top in its field locally, and continues its own tradition of supporting The RBC Heritage Golf Classic, recognizing its place as the island's seasonal springboard into the summer vacation rental season.
###