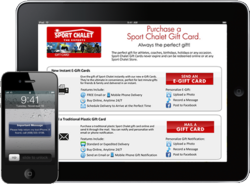 "Sport Chalet customers have active lifestyles and are always on the go, so e-cards are the perfect choice for a holiday gift," said Craig Levra, Sport Chalet's Chairman and CEO.
San Diego, Calif. (PRWEB) December 20, 2011
Transaction Wireless, the leading provider of digital gift card solutions, today announced that Sport Chalet, a leader in the specialty retail sector, has selected the Transaction Wireless cloud-based gift card platform to deliver personalized plastic and e-gift cards with added marketing capabilities to drive digital promotional campaigns when delivering notifications to gift card recipients.
Sport Chalet plastic and e-gift cards make a great last minute holiday gift for the passionate sports and outdoors enthusiast and can be purchased conveniently on its online site or Facebook page. Both the plastic and e-gift cards have email or mobile notification for intended recipients that can be scheduled or delivered in real time. The e-cards can be personalized with an image, text and audio message, and the available notification that comes with plastic gift cards is also customizable in the same way.
Additionally, both the plastic and e-gift cards have no expiration date or fees and can be redeemed online at SportChalet.com or at any Sport Chalet store nationwide. Furthermore, Sport Chalet can use gift card notifications to deliver timely digital promotional campaigns, making the Transaction Wireless platform a true customer engagement solution.
"Sport Chalet customers have active lifestyles and are always on the go, so e-cards are the perfect choice for a holiday gift," said Craig Levra, Sport Chalet's Chairman and CEO. "Our customers are passionate about sports and outdoor activities and personalized plastic and e-gift cards are a great way for them to get everything they need for their favorite pastime in a convenient way with the added personal touch of a note, image or audio message."
"We are excited to partner with Sport Chalet to enhance its gift card program and digital marketing capabilities that reach out to such an athletic and enthusiastic sports community," said Doug Schneider, CEO of Transaction Wireless. "Sport Chalet personalized gift cards are convenient and a thoughtful gift this holiday season for anyone who enjoys sports and outdoor adventures."
About Sport Chalet, Inc.
Sport Chalet, founded in 1959 by Norbert Olberz, is a leading operator of full service specialty sporting goods stores in California, Nevada, Arizona and Utah. The Company offers over 50 services for the serious sports enthusiast, including backpacking, canyoneering, and kayaking instruction, custom golf club fitting and repair, snowboard and ski rental and repair, SCUBA training and certification, SCUBA boat charters, team sales, racquet stringing, and bicycle tune-up and repair throughout its 54 locations. The address for Sport Chalet's web site is http://www.sportchalet.com
About Transaction Wireless
Since 2006, Transaction Wireless has been dedicated to helping retailers and partners transform their traditional gift card business to meet the ever-changing demands of today's digital consumer. Transaction Wireless offers the most innovative, versatile PCI Level 1 compliant B2C and B2B gift card and integrated marketing capabilities in the industry, allowing clients to quickly deploy, acquire customers, build loyalty, and grow their bottom line. Transaction Wireless' patented platform enables retailers to easily connect and intelligently engage with consumers through multiple channels, such as online, mobile, social, and more, all while providing the best in security, privacy, and customer support. Transaction Wireless is trusted by some of the biggest brands in retail such as AMC Entertainment, American Eagle Outfitters, Applebee's, Bass Pro Shops, California Pizza Kitchen, Cracker Barrel, O.co, Finish Line, SpaFinder and more. For more information visit: http://www.transactionwireless.com.
© 2011 Transaction Wireless. All rights reserved. Facebook is a registered trademark of Facebook Inc.
###