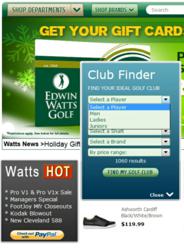 "This new platform provides shoppers with a more efficient online shopping experience, and I'm thrilled to deliver the new site just in time for holiday shopping." Soumen Das CEO UniteU Technologies
Fort Walton Beach, Florida (PRWEB) December 22, 2011
In conjunction with the holiday shopping season, Edwin Watts Golf Shops, LLC, (EWGS) one of the world's largest specialty golf retailers, today announced the re-launch of http://www.edwinwattsgolf.com. With seamless navigation and a breadth of interactive features, the new-look e-commerce website offers online shoppers a turnkey shopping solution, whether shopping for yourself or a special golfer.
The new website showcases a breadth of product offerings from golf's leading equipment manufacturers, while the enhanced functionality provides online shoppers with the same great shopping experience synonymous with an in-store retail visit. With effortless navigation golfers can quickly take advantage of the Today's Deals section -- highlighting spectacular deals on a wide selection of products, sign up for the LoyalTee program, tune in to the popular GOLFBETTER Podcast each week, experience a golf lesson in the Golf Tips section, and much more.
"Recognized as America's Golf Club for providing a superior in-store retail experience, our new website was created on a more sophisticated platform, with easier navigation and more functionality, to help us deliver that same exceptional experience for consumers who prefer to shop online," said John Watson, CEO, Edwin Watts Golf Shops.
Equipped with hyper-local functionality, http://www.edwinwattsgolf.com has the ability to customize a message and/or special offer on the home page, geo-targeting the online shopping audience in a specific market. This application serves to create more synergy between the Company's brick and mortar and e-commerce business, essentially alerting online shoppers in a specific region, with in-store special deals and news relevant to that market. Additionally, Edwin Watts Golf has removed the guesswork from a golfer's shopping experience, as the dynamic Shoppers Guide --located on the website -- serves as a one-stop solution for all equipment categories. Whether shopping for a novice, or a highly skilled player, this guide has it all and serves to make any consumer's selection process fun, easy and affordable.
One of the unique features is Club Finder - a filtered navigation module that allows shoppers to input basic information such as gender, preferred hand, club category, shaft flex, brand and price range, and the Club Finder tool will quickly generate a selection of options, based on specific criteria given. This tool further complements the in-store custom fitting program, offering a turnkey solution that matches a golfer with a specific club that fits their swing characteristics. Additionally, the My Joys Product Configurator for golf shoes expands their customization offerings, providing a more personalized buying experience for soft goods while enabling customers to select their preferred style of footwear, customize the color, specify a monogram, add a logo and choose their size.
Edwin Watts Golf partnered with UniteU Technologies, a SaaS provider of e-commerce solutions for specialty retailers, who is providing a range of e-commerce features and services to create the new http://www.edwinwattsgolf.com on its Connected Commerce Platform. The new platform distinctly improves the quality of the product presentations, while the new site architecture provides equipment manufacturers with opportunities to leverage more imagery and video when showcasing their product lines.
"Our deep knowledge of specialty retail, and our ability to replicate the in-store experience online, has enabled us to provide Edwin Watts Golf Shops with a new module that serves as a guide to help shoppers quickly find exactly what they are looking for, without extended search," said Soumen Das, CEO, UniteU Technologies. "This new platform provides shoppers with a more efficient online shopping experience, and I'm thrilled to deliver the new site just in time for holiday shopping."
Other features implemented on the new Edwin Watts Golf website include a store finder, where shoppers can easily find store-specific information such as store manager, phone number, door-to-door directions and a schedule of in-store events. Plans call for Edwin Watts Golf to roll-out additional features, content and applications at http://www.edwinwattsgolf.com throughout 2012.
About Edwin Watts Golf:
Edwin Watts Golf Shops, LLC (an affiliated portfolio company of Sun Capital Partners, Inc.), headquartered in Fort Walton Beach, Florida is one of the world's premier specialty golf retailers. The company operates as an integrated, multi-channel retailer, offering the freshest assortment of brand name golf equipment, apparel, and accessories through its 90+ domestic Retail Locations, eCommerce Internet site (http://www.edwinwattsgolf.com), Telephone/Catalog/Direct Mail sales (1.800.874.0146) and Digital Catalog (http://www.edwinwattsgolf.com/catalogs). Edwin Watts Golf touts a team of highly experienced and knowledgeable sales associates who can assist customers of all skill levels with lessons, performance fitting, special orders and repair services. The combination of the highest level of customer service, price match guarantee and reputation as the most trusted retailer in golf for over 43 years has earned the organization the right to be known as America's Golf Club.
About UniteU:
UniteU Technologies, Inc. is a leading Software-as-a-Service provider of e-commerce solutions. The company's e-commerce solutions are designed to help retailers of all sizes, maximize online revenues as well as reduce the costs and risks of running an e-commerce operation. The UniteU Connected Commerce platform is PCI compliant and scales to meet the ever-changing needs of multi-channel retailers; supporting custom designs, integration, rich media, advanced promotions, multiple payment and shipping options and intuitive search and navigation capabilities. UniteU provides premier managed hosting, web analytics, in addition to e-business consulting services that drive traffic, conversions and retention. Go to http://www.uniteu.com to learn more.
# # #