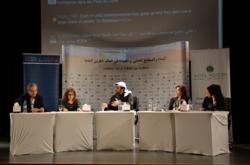 DUBAI, UNITED ARAB EMIRATES (PRWEB) December 20, 2011
On Sunday evening, Dubai Debates joined Vital Voices Global Partnership, Konrad Adenauer Stiftung, and CNN International to present its fourth edition, a debate on women's role and future contribution in the new Arab world.
At a time of historic transition, advocates gathered at the Dubai Knowledge Village to discuss the implications of regional developments on women and gender equality. Expert panelists included one of Tunisia's most influential activist bloggers Amira Yahyaoui, Emirati scholar and professor of political science Dr. Ebitsam Al Kitbi, and Syrian activist Sumaya Tayara and Mohamed Abu Obeid, self-styled Arab Feminist and Al-Arabiya presenter. The panel was moderated by provocative Gulf News columnist Mishaal Al Gergawi.
The Founder of the Dubai Debates, Belabbes Benkredda said: "Bringing together women from across the region to discuss the issues facing Arab women is of the utmost importance, especially during this time of transition. Being here in Dubai, a place where idealism drives progress, provides a unique opportunity for us to continue to foster an open dialogue and cultivate independent discourse about the future of the Arab world."
The Dubai Debates is a grassroots, independent debating forum that aims to broaden discourse beyond panel events by allowing anyone to submit video contributions, many of which were shown during the debate. Outside contributions for the debate came from a number of Arab countries, including: Morocco, Tunisia, Egypt, Palestine, Jordan, Syria and Saudi Arabia.
The series of five motions covered everything from questions of whether constitutional guarantees for womens rights might change social attitudes; if there should be quotas for women in Arab parliaments; to whether a Western model of womens rights should be applied to Arab countries.
Amira Yahyaoui summarized the panel's collective perspective on the the most controversial motion concerning the adoption of the western model by debunking the need to refer to an East-West model, or a male-female divide: "all of us are human beings and we all have universal rights. We must create our own model of human rights and develop our own tools."
Vital Voices President and CEO Alyse Nelson said: "This has been an exceptional year in the Middle East. Shifts in political and social landscapes have offered a unique opportunity for an open and inclusive conversation on women's leadership. The value of this conversation extends beyond the Arab world, and we are proud to join our partners in providing a platform for women's voices."
For 10 years, Vital Voices has provided training, mentorship and support to a regional network of leaders who work to advance human rights, entrepreneurship, and political participation. Vital Voices is proud to partner with the Middle East Partnership Initiative (MEPI) at the U.S. Department of State to support the Dubai Debates.
The Regional Representative to the Gulf-States of the Konrad-Adenauer-Stiftung, Thomas Birringer, added: "It is inspiring to see the role women took in the Arab Spring, pushing their countries forward; the full participation of women is an essential component for future global development. Now we need to pursue efforts to empower and enable women to continue and enhance their participation in the political, economic, and social lives of their societies."
About Dubai Debates: Dubai Debates is an independent, open debating forum aimed at the Arab youth. Harnessing new possibilities of social media, Dubai Debates aims to give anyone with an Internet connection a voice in periodical debates that discuss some of the Arab world's most pressing issues. By broadening participation through channels like Facebook, Twitter and Youtube, we hope to create an ongoing, inclusive, and open discourse enabling all voices to be heard. With web technology now available to a rapidly increasing number of people across the Arab region and the world, and at a time where there is a great demand for constructive discourse, Dubai Debates aims to provide a platform that allows everyone to engage in debates. All editions of the Dubai Debates are published in several short clips, which are made available under a Creative Commons License on the Dubai Debates website, Youtube and the iTunes store. For more information, go to our website at http://www.dubaidebates.com
About Vital Voices Global Partnership: Vital Voices' mission is to identify, invest in and bring visibility to extraordinary women around the world by unleashing their leadership potential to transform lives and accelerate peace and prosperity in their communities. Founded by Secretary of State Hillary Rodham Clinton in 1997, Vital Voices is an international non-governmental organization that advances women's leadership as a vehicle for transformative change in economic development, human rights and political participation. Its international staff and team of over 1,000 partners, pro bono experts and leaders have trained and mentored more than 10,000 emerging women leaders from over 144 countries since 1997. Visit http://www.vitalvoices.org to learn more.
About Konrad Adenauer Stiftung: The Regional Program Gulf-States, headquartered in Abu Dhabi, is in charge of projects in member countries of the Gulf Cooperation Council (GCC): Bahrain, Qatar, Kuwait, Oman, Saudi Arabia and the United Arab Emirates, as well as Yemen (associated member of the GCC). KAS started its activities in June 2009 as the first German political foundation present in the Gulf Region. KAS cooperates with governmental institutions, political parties, civil society organizations and handpicked elites, building strong partnerships along the way. In particular, it seeks to intensify political cooperation in the area of development cooperation at the national and international levels on the foundations of our objectives and values. Together with its partners, KAS contributes to the creation of an international order that enables every country to develop in freedom and under its own responsibility. By bringing people together who embrace their responsibilities in society, it develops active networks in the political and economic spheres as well as in society itself. The guidance KAS provides on the basis of our political know-how and knowledge helps to shape the globalization process along more socially equitable, ecologically sustainable and economically efficient lines.
# # #