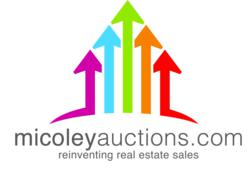 Green Bay, WI (PRWEB) December 22, 2011
The Micoley & Company hosted FDIC auction of East Coast properties over the first weekend of December proved successful. The auction successfully sold 95% of the available assets and brought in a total of $3,066,500.00 in sales.
"We are very pleased to have played an essential role in this smaller event. Many buyers have expressed their satisfaction in the process, both on site and online. Our outreach program also proved to be a success as we had a diverse group of bidders inquire about properties and attend in person to bid. We look forward to exposing additional properties in other areas of the United States in the future," Wade T. Micoley, President.
The auction lasted three days in three eastern cities, December 2 – 4, and included single-family and multi-family properties, condominiums, as well as commercial and vacant properties. Bidding was available in person and online. Twenty-four properties were sold absolute, and twenty-three sold at reserve prices. All properties sold are expected to close by early January.
Individuals seeking additional information on upcoming auctions are encouraged to contact Micoley & Company for more information; 1-888-662-1020 or visit http://www.micoleyauctions.com.
Micoley & Company, based in Green Bay, WI, is a real estate auction company specializing in bank-owned properties throughout the United States. Their unique approach to real sales is executed through customized marketing programs and project focused auction plans, customized for each of their unique clients.
# # #