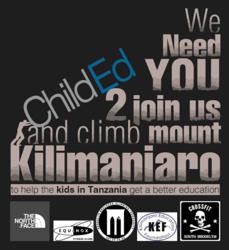 New York, NY (PRWEB) December 20, 2011
The non-profit organization Child Education International ("ChildEd") is bringing together a group of adventure-seekers in order to raise funds for its programs in secondary education in developing countries. They are scheduled to embark on a climb of Mount Kilimanjaro in February 2012 and will be raising funds for the organization in the run-up to the trip. Part of the funds raised will go to books and supplies of a secondary school that the Kilimanjaro Education Foundation is involved with.
The climb represents an innovative way for the organization to fund its growing operations and recognizes the increasing importance of impact tourism for the non-profit sector. It is also an excellent opportunity for people interested in adventure travel to help make a difference while taking part in an experience that will stay with them forever.
The group is set to begin their trip end of February, 2012. The climb itself will take seven days and six nights, culminating in an overnight climb to the top of the mountain under a full moon. The group will then experience the most beautiful sunrise in all of Africa. The climbers will also participate in a two-day-long safari to view the wildlife migration at the Ngorongoro crater before winding up their trip and returning home.
ChildEd is also committed to engaging with the climbers in the run-up to the trip and is providing them with a training routine, in partnership with Brooklyn Boulders fitness club, CrossFit South Brooklyn, Equinox, The North Face Soho, and Zirkel The World. The regular training get-togethers will also serve as an excellent way to create camaraderie before the trip. As the holiday season approaches, ChildEd is also working closely with the climbers to help them with their fundraising efforts by organizing different fundraising activities and advising them on the most effective ways to raise funds by leveraging their personal and professional networks.
ChildEd was founded initially as The Cambodia Project by Jean-Michel Tijerina in 2006. Since its inception, ChildEd has been working to provide better learning materials and facilities for children across the developing world. After initially focusing on Cambodia, ChildEd has expanded its geographical reach to include projects in countries such as Sri Lanka, Haiti and Tanzania, in collaboration also with nonprofit Hope For the Silent Voices. The organization's model is based around the belief that the educational attainment of children in these countries can be improved only through a holistic approach that goes beyond their classroom experience. Thus, ChildEd has been involved in providing free health check-ups to children and plans to sponsor the construction of libraries at some of the schools where it operates.
ChildEd Founder Jean-Michel Tijerina shares his excitement about ChildEd's climb: Kilimanjaro, "I'm really excited to bring our team to Tanzania and support a secondary school that the Kilimanjaro Education Foundation is involved with. The Kilimanjaro climboffers an adventure of a lifetime while actively being of support to children in need at secondary schools worldwide."
There are still a limited number of spots available for people interested in joining the climb. For more information about the itinerary, pricing and logistics please visit: http://www.childed.org/climb/ or contact Jean-Michel Tijerina at info(at)childed(dot)org.
About ChildEd
ChildEd is a US-based nonprofit that works with local partners globally to help empower children in secondary school with education that enhances their access to opportunity.
ChildEd climb: Kilimanjaro is a venture to promote "adventures for good," climbing Mt Kilimanjaro as a fundraiser and a social initiative to support children in developing communities with their education.
About KEF
Kilimanjaro Education Foundation (KEF), (http://www.kef4kids.org) founded in 2006, is incorporated in New York State and organized as a 501(c)(3). KEF strives to improve education and to build school facilities for underprivileged children in Tanzania and other countries bordering Kilimanjaro. KEF's volunteers and directors share in and impart not only the Foundation's passion for children and education, but also in KEF's core values of honesty, integrity, creativity and imagination.
Links:
ChildEd, http://childed.org/
ChildEd climb: Kilimanjaro, http://childed.org/climb/
Kilimanjaro Education Foundation, http://kef4kids.org/
###