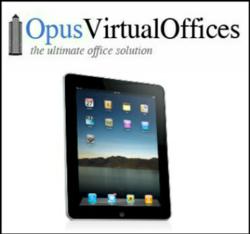 We are running sweepstakes to add excitement for businesspeople visiting our website to learn about our business solution. I was thrilled to hear that the winner, Nicole Fiorella, had already chosen to utilize our program." - Yori Galel, CEO, Opus VO.
Boca Raton, FL (PRWEB) December 21, 2011
The Opus Virtual Offices website has been greeting visitors with a sweet surprise recently, the chance to win a new iPad. Entrepreneurs visiting the site to see if virtual office services were right for their business, and individuals just curious about virtual offices discovered an entry form for a sweepstakes open to all, no purchase necessary, with the iPad as prize. This was the first of quarterly online sweepstakes that will be offered by Opus VO, and on Monday an ecstatic Buffalo, NY business owner, executive recruiter, and career coach, Nicole Fiorella, found out she was the lucky winner.
"We're running sweepstakes to bring excitement and reward opportunity for businesspeople visiting our website to learn about the Opus virtual office solution available for only $99 a month. Opus will be holding drawings quarterly, with the next winner to be announced on March 15, 2012. Anyone filling out the form had an equal chance to win, but I was thrilled to hear that Ms. Fiorella was already utilizing our program," said Yori Galel, CEO, Opus Virtual Offices.
Opus defines a virtual office as a complete business system utilizing advanced technology to create a flexible online workplace to enhance a business's capabilities and professional image. The tools and services offered appealed to Ms. Fiorella.
Contacted by an Opus spokesman that she was the winner, Ms. Fiorella said she found Opus VO via Twitter and wasn't really looking for a virtual office; only a PO box.
But the idea of access to live receptionists and the technology of fax and voicemail converting to email bundled for $99 monthly sold her without shopping around. A strong decisionmaker, the choice of an Opus virtual office for her business needs was clear.
She was able to drop her fax line and one phone line, saving money. She loves having calls professionally transferred and notes a corporate mailing address close to her residence is convenient and offers a much classier image than a PO box.
A dynamic businesssperson, Nicole has done executive recruiting since 1996, and now owns Fiorella Search Group, specializing in matching top tier professionals in the healthcare, biotech, and medical industries with top tier corporations seeking the finest candidates.
She also specializes in management training and career coaching. Married for almost 14 years, her husband is an inspector with the NYS Transit System, and they have an 11 year old daughter.
How will the new iPad be utilized? "Mostly business but I know my daughter will watch Netflix movies on it too," she laughed.
Opus VO congratulates winner Nicole Fiorella, and reminds other entrepreneurs to check out its superior business system and to enter the March 2012 sweepstakes.
Further information is available at http://www.opusvirtualoffices.com
###