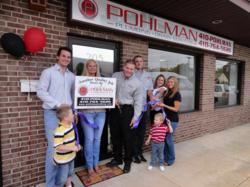 Great price, great service. I was away on vacation when my rental property sprang a leak. Pohlman fixed the problem quickly and at a good price. They saved me a lot of stress and hassle. I'll be using them for my future plumbing needs.
Baltimore, MD (PRWEB) December 22, 2011
As one of Baltimore's and the surrounding counties most trusted plumber, Pohlman Plumbing has released some tips to keep in my mind this Christmas and into the New Year. It is important to call an experienced plumber when trying to tackle big plumbing projects but in times of trouble, everyone should be aware of some basic guidelines that can help avoid common plumbing and drain issues.
At Pohlman Plumbing our motto is "Fast Service, At a Fair Price, and Done Right the First Time". We stand by this motto which we have branded the "Pohlman Plumbing Promise". Our promise and goal is to always leave the customer happy so that they choose us the next time they're in need of plumbing repairs. Unlike some other well advertized plumbing companies that like to "hit and run" with a big charge the first time they're called into your home, Pohlman Plumbing wants your repeat business.
In the spirit of Christmas, we've put together some tips and advice that we hope will help you avoid plumbing problems without breaking the bank.
Plumbing tips:
1. Clogged drains (sinks and tubs) are annoying little problems that could get bigger with time and negligence. The quick fix might sound tempting -- easy and cheap -- but it might end up costing you… time and money! Drain-clearing products can ruin your plumbing and pipes. Your best option is to try to remove the blocking agent (usually hair) with a hair removal tool, sold at most hardware stores for less than $5. If this doesn't work within a few minutes, there is a more severe problem and you will need to call an experienced plumber. Never try to unclog main house drains yourself. The tools are dangerous unless you are experienced and in the end most people end up paying MORE when they have to call a plumber to fix what they damaged.
2. Water heaters can be expensive and water heater replacements can be a pain. But a quick replacement of the anode rod (a part that dissolves to protect the lining of water heater) about every 10 years, you can increase the life expectancy of your water heater. Additionally, tankless water heaters should be flushed and cleaned (descaled) every three years or so to maintain peak efficiency.
3. To keep water stream flowing properly on faucets, remove debris from aerators. You'll recognize these as the screens within the faucet's spout.
4. Chemicals inside toilet tanks can damage plumbing. Be sure to put tablet-type cleaners, such as chlorine or bowl fresheners, inside the toilet bowl and not inside the toilet tank. This will also reduce buildup that could restrict water flow and avoid flushing problems.
5. Garbage disposals are tough, yet delicate systems. Keep your garbage disposal running optimally by using powders and tablets made specifically to clean and refresh garbage disposals. Avoid bleach or other corrosive chemicals. These may be effective at reducing smells, but they can also cause the grinder to corrode.
Following these simple tips will help you have a happy and safe holiday!
Pohlman Plumbing is family owned and operated plumbing company that has been in business in the Baltimore area for about 4 years now. Our goal is provide professional plumbing services at an honest and fair price while exceeding the customers' expectations with exceptional customer service. For more information please visit http://www.pohlmanplumbing.com
###