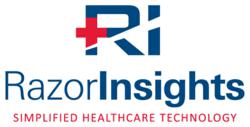 Kennesaw, Georgia (PRWEB) December 21, 2011
One year ago, three entrepreneurs took their combined knowledge, numerous years of health IT experience, and a hefty leap of faith and launched RazorInsights, an electronic medical records company focusing on the needs of rural and community hospitals. This month, RazorInsights celebrates its 1-year anniversary, and marks a year of growth and strong performance.
During its inaugural year, RazorInsights effectively positioned itself within the Rural and Critical Access hospital market. ONE-Electronic Health Record, accompanied by a strong value-proposition, immediately struck a chord with this widely underserved segment. Earl Whiteley, FACHE, CEO of Calhoun Memorial Hospital in Arlington, Georgia, indicates that RazorInsights understood his hospital's issues and was very willing to accommodate them. "Out of the many systems that we reviewed, RazorInsights met our requirements, was certified as a Complete Inpatient EHR, and most importantly, was willing to share the risk with us in obtaining meaningful use. We look forward to a long and professional relationship," he said.
Following ONC-ATCB certification in February, RazorInsights immediately signed J. Paul Jones Hospital in Camden, Alabama. That success was built upon with the signings of additional hospitals throughout the Southeast.
Edward Nall, CEO of RazorInsights, says that simplifying the process has been a major contributing factor to the success they have seen. "Reducing the overall price is a key element in supporting rural, community hospitals' ability to adopt advanced clinical technology. Our cloud-based system comes all-inclusive, so it's delivered ready-to-use, and it includes all future upgrades. Sharing the risk when it comes to incentive payments made available to providers demonstrating 'meaningful use' hasn't hindered our efforts any either," he said.
Nall went on to commend the dedication of their development team. "Our developers have played a very large role in the success we have encountered this past year. The intuitive design of our single-database EHR has made the sell much easier. ONE is extremely easy to implement and simple to use; and with us doing the build for our customers, their valuable time is conserved. That equals money saved, which they greatly appreciate."
Reed Liggin, R.Ph. MBA, president of RazorInsights, said that he is extremely motivated by the growth of RazorInsights' team. "What an incredible year this has been. We've had the opportunity to hire a handful of great, new team members, which all bring fresh ideas and positive energy to our organization," he said. COO Michael McKenzie, who has spent a large part of the year providing training inside the hospitals, added that he has really enjoyed the interaction with the hospitals' personnel. "I've had the opportunity to meet some incredible folks this past year. Everyone has been very accommodating, and I can always get a solid recommendation on where to find a good, home-cooked meal," he said.
RazorInsights' First Year Accomplishments and Highlights:

Achieved ONC-ATCB 2011/2012 certification as a Complete Inpatient EHR
Featured in 2011 issue of Georgia Trend magazine's Small Business Guide
Established a strong set of referenceable Inpatient EHR clients
Added over 50 new team members to the RazorInsights team
With a sophomore year approaching, RazorInsights is showing no signs of slowing down. They recently introduced ONE-Health System Edition, which includes Financials built on the same database as their Inpatient EHR. This package provides their hospital clients a fully-integrated financial management solution. In addition, RazorInsights expects to debut both its ONE-CCR Edition and ONE-Enterprise Edition spring 2012. ONE-Electronic Health Record customers will have the option to upgrade to one of the following editions:
•ONE-Health System Edition (ONE-Electronic Health Record + Financials)
•ONE-CCR Edition (ONE-Electronic Health Record + Ambulatory EHR & Practice Management)
•ONE-Enterprise Edition (ONE-Electronic Health Record + Financials + Ambulatory EHR & Practice Management)
So, that caps off a year for RazorInsights – and, well, it has been a very good one.
About RazorInsights: Based in Kennesaw, Georgia (in the metro Atlanta area), RazorInsights is a new, dynamic healthcare information technology company. In keeping with the principle of Occam's Razor, they have created a simplified healthcare technology solution for hospitals called ONE-Electronic Health Record. Residing on a single, integrated database, this cloud-based solution offers a simple user experience with cutting-edge clinical tools and industry-standardized data. Hospitals can expect to improve their performance and bottom line with ONE from RazorInsights. To register for a live product demo or for more information, visit http://www.razorinsights.com or call 770-308-4111.
###