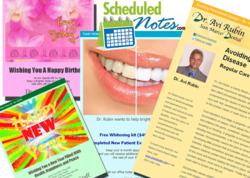 ScheduledNotes let us cut our annual direct marketing budget down to almost nothing - and we get better results through email. (JL - Marketing Director, SIU)
Boca Raton, FL (PRWEB) December 20, 2011
There is still time to capitalize on the holiday season to wish customers, clients, patients and business associates "Season's Greetings" while offering holiday marketing messages. ScheduledNotes allows businesses of all types to send email cards for all occasions. Best of all, greeting cards can be combined with marketing messages to take advantage of the power and cost savings associated with email marketing. And in addition to the greeting card interface, ScheduledNotes features interfaces to easily create other types of custom emails and newsletters, making it the simplest, most powerful small business email marketing tool available today.
Unlike other email marketing, or bulk email programs, ScheduledNotes is easy to use and requires no knowledge of HTML—anyone that can type can use it to create elegant, professional looking email correspondence that can be sent to some or all contacts with a few clicks. Contact lists can be imported from almost any program, so there's no need to worry about re-entering contact information. Once contacts are in the system, a few clicks and a little typing is all it takes to get messages out.
For holiday cards, just select contacts and schedule the cards to send. ScheduledNotes not only sends cards for this year, it automatically schedules to send year after year, so users can just "set it, and forget it". There are thousands of cards to choose from, in categories for virtually every holiday throughout the year. The custom email feature allows users to send emails containing announcements, reminders, coupons and other types of correspondence either one time, or on a recurring basis. Sending a coupon out on the first of every month? It's simple with ScheduledNotes! The newsletter interface can be used to send out eye-catching informational newsletters to keep customers updated on the latest in a business or industry. Best of all, emails are sent directly to the recipients Inbox, rather than as a link back to a website. And because emails are sent from the ScheduledNotes mailing system, all emails look like they've been sent individually. Recipients will never see an "Undisclosed Recipients" message, or a long list of other email addresses that were CC'd in a message. Tying it all together is the ScheduledNotes reporting system that provides users with a calendar interface to see upcoming scheduled emails and statistics on delivery and open rates..
Current postage and printing costs have made direct marketing too expensive for all but the largest businesses. An average mailing to 500 customers can cost in excess of $500 including postage and printing. With a mailing every month, that's a $6000 annual expense! At only $129.95 for a year's service, ScheduledNotes costs only pennies a day—and there's no limit on the number of emails that can be sent, as long as they don't generate too many spam complaints (a sure sign that emails are being sent too frequently). But that's part of the beauty of ScheduledNotes. When marketing messages are sent in the guise of greeting cards, not only won't users generate complaints, recipients are grateful for having been thought of and reply with thank you messages!
ScheduledNotes is offering 25% off the regular annual or monthly subscription price if for registrations between now and the end of the year. Just enter the Signup Code, SCN61766 on the registration page.
To sign up today, visit http://www.schedulednotes.com and click the REGISTER button.
###