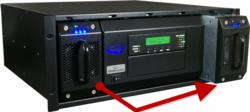 4TB Seagate and Hitachi 4TB drives will increase RAIDPac backup cartridge capacity to 12TB/8TB (RAID0/5).
Reno, NV (PRWEB) December 22, 2011
Highly Reliable Systems of Reno, NV announced that their RAIDFrame DAS (Direct Attached Storage) backup system will support Hitachi and Seagate 4TB hard drives when they ship (expected first quarter of 2012). In RAID0 mode each RAIDPac will hold 12TB of data, making it the world's largest removable backup cartridge. A RAIDPac contains 3 drives and an integrated controller that travels with the backup cartridge. The system attaches directly to a fileserver or NAS with a single eSATA or USB 3.0 cable
The company plans to release a specialty NAS with removable drive support based on Ubuntu Linux in the first quarter of 2012. The RAIDFrame is available in 1 bay, 2 bay, and 5 bay enclosures. The 2 bay systems (pictured) allow further redundancy by allowing two RAIDPacs to be mirrored; a configuration the company calls "RAID 51". The use of hardware automatic mirroring technology means that swapping in a new RAIDPac initiates an additional block level copy of the primary backup. The RAIDFrame is designed for high capacity and rapid server recovery and provides a way to supplement or replace cloud and/or tape strategies.
RAIDPacs can be configured with RAID0 for maximum speed or with RAID5 to protect against single drive failures. When the Seagate and Hitachi 4TB drives ship they will increase RAIDPac capacities to 12TB/8TB (RAID0/5). According to Tom Hoops, the company CTO, no special drivers are needed since each RAIDPac is seen by the host system as a single removable hard drive. Unlike tapes a RAIDPac can be accessed directly in an emergency without the RAIDFrame enclosure. In addition to the standard self-centering connector designed for daily swap inside the RAIDFrame, each RAIDPac has standard SATA and USB3 connections on the back.
Redundancy is achieved using RAID5 and/or by mirroring to another RAIDPac. By using multiple cartridges (as with tapes — a new one each day in rotation), a history of full backups can be retained over time. The entire line has been upgraded to allow faster RAID5, faster mirroring, and software management. Backup and restore performance exceeds 400Gigabytes per hour using imaging software on modern servers.
Highly Reliable Systems sells the product through resellers. 6TB RAIDPacs (containing three 2TB drives and RAID controller) are $1208 MSRP.
For more info call 877-384-6838.
###