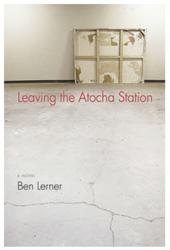 "Subtle, sinuous, and very funny."
Minneapolis, Minnesota (PRWEB) December 20, 2011
In their year-end review, The Wall Street Journal noted that "the book's main attraction is at the sentence level" and that Lerner "uses language with an obsessive, almost fetishistic, delicacy." The novel was one of ten books called out as the best in fiction by the newspaper and the only book on the list published by a small press.
Since its publication in September 2011 by Coffee House Press, Leaving the Atocha Station has garnered critical acclaim across the board, including praise from NPR's "Fresh Air with Terry Gross," Bookforum, Star Tribune, Publishers Weekly, Booklist, and from writers such as Paul Auster, Paul La Farge, and Jonathan Franzen, who called the novel "cracklingly intelligent, fully alive and original in every sentence."
A three-page review in The New Yorker by renowned literary critic James Wood called Lerner's first foray into fiction "subtle, sinuous, and very funny." In Lorin Stein's review of the novel in The New York Review of Books, he praised Lerner as "one of the funniest (and truest) novels I know of by a writer of his generation."
Other books by Ben Lerner include the poetry collections The Lichtenberg Figures (2004), Angle of Yaw (2006), and Mean Free Path (2010), all published by Copper Canyon Press. In 2006, Angle of Yaw was named a finalist for the National Book Award in the poetry category.
Leaving the Atocha Station follows Adam Gordon, a young American poet studying poetry in Madrid who struggles to find meaning in his art and authenticity in his daily life. As Adam plays witness to the 2004 Madrid train bombings and their aftermath, Leaving the Atocha Station becomes a portrait of the artist as a young man in the age of terrorism, pharmaceuticals, and spectacle. The book is available at book retailers everywhere and at http://www.coffeehousepress.org/2011/06/leaving-the-atocha-station/.
About Ben Lerner
Poet and novelist Ben Lerner has been a finalist for the National Book Award and the Northern California Book Award, a Fulbright Scholar in Spain, and the recipient of a 2010-2011 Howard Foundation Fellowship. In 2011 he became the first American to win the Preis der Stadt Münster für Internationale Poesie. He teaches in the writing program at Brooklyn College. Visit Lerner's author page at http://www.coffeehousepress.org/authors/ben-lerner/
About Coffee House Press
Located in Minneapolis, Minnesota, Coffee House Press is an independent, nonprofit literary publisher of fiction, poetry, and nonfiction. The mission of Coffee House Press is to publish exciting, vital, and enduring authors of our time; to delight and inspire readers; to contribute to the cultural life of our community; and to enrich our literary heritage. For more information, please visit http://www.coffeehousepress.org
For more information, to schedule an interview or request a review copy, please contact:
Jessica Deutsch, Marketing Director
Coffee House Press
Jessica(at)coffeehousepress(dot)org
(612) 338-0125
Tricia O'Reilly, Publicist
Coffee House Press
tricia(at)coffeehousepress(dot)org
(612) 338-0125
###