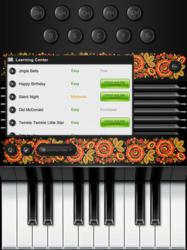 Everyone from 1 to 100 can start making music, even if they've never played a note in their life.
Cupertino, CA (PRWEB) December 21, 2011
People of all ages who have never played the accordion in their life can now tap into their hidden talents with Accordéon, the iPad instrument app exhibited by Steve Jobs at the Apple Keynote iPad launch event, see Accordéon at the Apple Keynote here.
Accordéon, which Apple has also featured several on its New and Noteworthy, What's Hot, iTunes Rewind (best of iTunes) and Staff Favorites lists, takes full advantage of the unique form-factor and multi-touch nature of the iPad, which is why it's so easy, simple and intuitive to use.
Plus, in response to popular demand, Accordéon now features a Leaning Center, where budding iPad accordionists can learn how to play popular songs just by following a series of pre-lit keys on their device. Current song selections include: Happy Birthday, Old McDonald had a Farm, Ode to Joy, Twinkle Twinkle Little Star, Amazing Grace, Chicken Dance, and Yankee Doodle. And just in time for the holiday season, the Learning Center also features Silent Night and Jingle Bells. More titles will be added in the coming weeks and throughout 2012.
"We were overwhelmed by how many people loved Accordéon at the Apple Keynote, including Steve Jobs himself," commented Alexander Komarov of Komarov Mobile, the app's creator. "Even the legendary Weird Al Yankovic uses Accordéon. We think that what makes it so unique is just how easy and fun it is. Everyone from 1 to 100 can start making music, even if they've never played a note in their life. And who knows? They may end up picking up a real accordion or other instrument, and take their talents to another level!"
Accordéon, the simple, fun and easy iPad instrument app featuring a new Learning Centre with a growing library of songs, is available now in the App Store. Also available are an iPhone Baby Accordion and Android Version.
For more information or media inquiries, contact Mark Johnson of appshout! on behalf of Komarov Mobile at +1 408 757 0086 or at press(at)myappshout(dot)com.
About Komarov Mobile
Based in Pennsylvania, Komarov Mobile specializes in mobile strategy, design and development. Its founder, Alexander Komarov, has an extensive background in web and mobile interaction design and UX. Komarov Mobile looks beyond devices, and envisions the people who will use them in order to create mobile products they'll love – and buy. Learn more at http://www.akomarov.com/
###