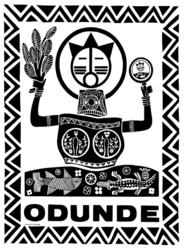 Philadelphia, PA (PRWEB) December 20, 2011
ODUNDE, Inc., an educational and cultural arts organization responsible for the annual ODUNDE Festival, a four-day long African and African-American cultural event reaching more than 500,000 persons, is hosting its first-ever Children's African Dance and Drum performance on Wednesday, December 21, 2011, from 5:30pm-6:30pm, at Marian Anderson Recreation Center. The event is a part of its new initiative, ODUNDE 365, whose goal is to provide year-round cultural and athletic programming for residents in the tri-state area.
The participants, who are 5-to-12-years-old and also attend UICS, have been enrolled in the extracurricular class for three months, and are taught by instructors of the Universal African Dance and Drum Ensemble, of Camden, New Jersey, twice a week.
U.S. Congressman Bob Brady will be in attendance, along with Kenny and Faatimah Gamble, of Universal Companies (http://www.universalcompanies.org), which manages UICS.
ODUNDE 365 scheduled programs for the upcoming year include, additional classes for African Drum and Dance at Marian Anderson Recreation Center, beginning January 28; Imagine Africa Family day at UPENN Museum, March 31; and the 37th Annual ODUNDE Festival, June 8-10.
ODUNDE, Inc.(http://www.odundefestival.org) and its programs, including the annual ODUNDE Festival, were initiated in 1975 by Lois Fernandez and Ruth Arthur, and has gained a national reputation as one of Philadelphia's brightest cultural jewels.
Who:

U.S. Congressman Bob Brady, Commonwealth of Pennsylvania
Oshunbumi Fernandez, CEO, ODUNDE, Inc.
Kenny Gamble, founder, Universal Companies
Faatimah Gamble, co-founder, Universal Companies
Universal African Dance and Drum Ensemble
35 student performers
When: Wednesday, December 21, 2011
5:30pm-6:30pm
Where: Marian Anderson Recreation Center
744 S. 17th Street, Philadelphia, PA
###