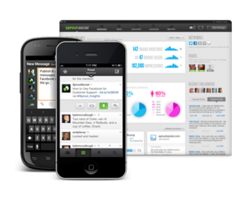 Chicago, IL (PRWEB) December 21, 2011
Sprout Social, a Chicago-based social media management tool for business, has released a mobile version of its application for Android devices. The application will now allow Android users to monitor their social media inbox, send replies, create and schedule new messages, view assignments and more while away from their computer.
The Android application comes just weeks after the release of Sprout Social's S2 platform and new iPhone application, rounding out the mobile experience for Sprout Social users. Providing intuitive, native applications on the two largest mobile platforms will allow users and teams using Sprout Social to have a cohesive experience across multiple social networks, regardless of where they are or what device they are using.
Sprout Social's S2 capabilities range from aggregation of an organization's social media activity into a single stream and automated cross-network posting of messages, to targeted searches for new customers and flexible, powerful reporting tools – all from a unified and easy-to-use interface that has spurred Sprout Social adoption by thousands of businesses around the globe.
Building on the existing web application, the S2 release brought several strategic enhancements, including:

Multi-user functionality, task assignment & team workflow
Flexible account structures, ideal for agencies with multiple clients
Co-branded portal & login page
Enhanced reporting & analytics at the group and account levels
All-new interface to increase performance and ease of use
About Sprout Social
Sprout Social delivers comprehensive tools that allow businesses to efficiently and effectively manage and grow their social media presence across multiple channels. The application integrates with Twitter, Facebook, LinkedIn, Foursquare and other networks where consumers are engaging with businesses and brands. In addition to being known for its intuitive and easy-to-use interface, Sprout Social offers contact management, competitive insight, lead generation, analytics and social crm. The platform has been identified as a product leader by Info-Tech Research Group, and the company's investors include Lightbank, the investment vehicle launched by Groupon founders. For more information, visit http://sproutsocial.com.
###