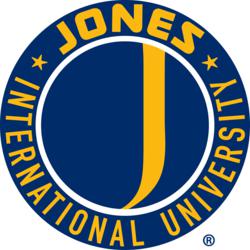 Denver, Colo. (PRWEB) December 20, 2011
Jones International University®, Ltd. (JIU®) today announced the formation of the JIU Society of Scholars. With a focus on the subject areas of Education, Business and Technology, the JIU Society of Scholars (Society) will promote scholarly dialogue including current trends around its subject areas. It will support, model and recognize faculty research and provide opportunities for doctoral students to work at advanced levels with doctoral-level researchers and educators, help to socialize doctoral students into the profession, and promote scholarly research, dialogue, and collaboration by its Fellows and amongst JIU doctoral students.
Inspired by the Royal Society of London, a cohort formed in 1663 by Robert Hooke, Christopher Wren, Sir Isaac Newton, and Benjamin Franklin's American Philosophical Society, the JIU Society of Scholars will endeavor to create an environment which encourages cross-pollination of information and exploration among academic scholars. Further, the JIU society is founded on the hope of deepening and widening academic collaboration by embracing the digital, collaboration-enabling tools now available and to be made available online.
"I am excited by the potential for academic collaboration to occur among the Fellows of the JIU Society of Scholars," stated Dr. Richard Green, Chair of the Society's Council. "By effectively applying digital collaboration tools, we can help enable the exploration of knowledge, including how it is gathered, stored, delivered, taught, learned, applied and measured on a scale never before seen in the history of humankind."
The JIU Society of Scholars will hold quarterly council meetings. The Society will commence activity with invitations to Fellows and isolation of potential subjects of inquiry and research topics. In terms of research, the Society shall sharply focus on evolving the "Common Stock of Knowledge" in, about, and as it relates to, the online aspects of its areas of interest.
About Jones International University®, Ltd. (JIU®)
As the pioneer in online education, Jones International University, offers an unparalleled online educational experience that provides essential tools and strategies for career starters, career changers, and career advancers around the globe. JIU offers an array of online undergraduate, graduate, and doctoral degrees and professional certificate programs in the fields of business administration, education, and business communication and employs some of the greatest minds from many of the world's leading universities.
# # #