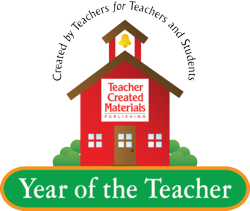 Huntington Beach, CA (PRWEB) December 27, 2011
Teacher Created Materials (TCM) of Huntington Beach, CA, declares that 2012 will be the Year of the Teacher. As TCM celebrates 35 years of supporting teachers, the company wants to share their success with special events and activities. As publishers of resources that are "Created by Teachers for Teachers and Students", TCM couldn't think of a better way to show teachers how much they are valued and appreciated.
"We all have a favorite teacher that holds a special place in our heart and helped to shape a part of who we are. Teachers carry the heavy responsibility and pressure to prepare young people for college, careers, and life. The added challenge of having to do more with less is an increasing obstacle. Teaching is a noble calling, and no one does it for the money. We want to bring back an enthusiasm for teaching and give back to people in the trenches who are with our children every day," says TCM's President, Corinne Burton.

Activities to celebrate TCM's 35th year anniversary and the Year of the Teacher will include:
Monthly offers giving away supplemental curriculum materials to use in the classroom every month.
California State University Fullerton scholarship for continuing education for teachers.
Community outreach at a neighborhood school to help organize a Dr. Seuss Literacy Fair, plant a garden, and paint a mural.
Incentives for manuscript and lesson plan submissions by teachers for new product ideas and professional resources.
A teacher advisory board appointed through an online application process. This board will influence new product development and receive samples for review.
About Teacher Created Materials
Teacher Created Materials is one of the most recognized names in educational publishing. For 35 years, TCM's award-winning resources have been used by educators in all 50 states and 99 countries. Offering a broad range of innovative curriculum resources, TCM's products support reading, writing, mathematics, social studies, science, technology, early childhood, and professional development for Grades PreK-12. All of TCM's resources and professional development trainings reflect the latest research, best classroom practices, and achievement-oriented methodologies. The practical and teacher-friendly solutions created by Teacher Created Materials help teachers do what they do best – reach, teach, and inspire students everywhere.
###