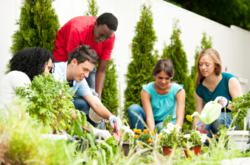 Ten different schools will be chosen to each receive a three year subscription to Mike the Gardener's Seeds of the Month Club
Burlington, NJ (PRWEB) December 27, 2011
Seeds of the Month Club retailer, Mike the Gardener Enterprises, has announced they are going to award ten schools with three year subscriptions to their Seeds of the Month Club.
Schools with a gardening program or those schools thinking about starting one, are eligible. Mike the Gardener is currently accepting applications and there is still have time to apply for this award.
"Teaching kids how to grow a vegetable garden from seed and being able to enhance and grow school vegetable gardens, is a great way to give back to a community," said Mike the Gardener owner Michael C. Podlesny.
Ten different schools will be chosen to each receive a three year subscription to Mike the Gardener's Seeds of the Month Club. Schools that are awarded, will receive 8 packs of vegetable, fruit and/or herb seeds their first month and then 4 packs every month thereafter for three years.
Schools can enter for a chance to obtain one of the ten, 3 year subscriptions, by visiting averagepersongardening.com/schoolapplication and fill out the online application form. The deadline to submit an application is January 31st, 2012. Winners will be notified on or about February 17th, 2012 and schools will start receiving seeds in March of 2012. Just in time for spring.
"There are so many possibilities for tying in vegetable gardening with learning, that it comes as no surprise that school gardens are on the rise," continued Podlesny. "Once kids learn how easy and fun it is to grow fruits, vegetables and herbs from seeds, they will want to carry this beneficial skill with them for the rest of their lives."
###