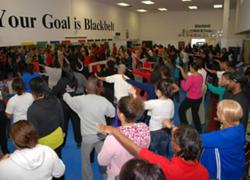 "When the thunder claps, it's to late to cover your ears!"
(PRWEB) December 22, 2011
The holiday season has the highest crime rate of the year, especially in terms of personal attacks such as robberies, thefts and muggings. This year law enforcement officials are cautioning residents about a further possible crime spike due to the current condition of the economy. In order to educate women on being safe this holiday season, The Women's Personal Safety Network conducted a free community personal safety this past December 17th, 2011 in Glenn Dale, MD. Over 50 women of all backgrounds attended to learn the valuable advice and skill sets to reduce their chance of being a victim.
The Women's Personal Safety Network (http://www.thewpsn.com) is a free online community provided by Elite Personal Safety Systems that educates women on personal, home, vehicle, travel, child, teen and college safety. The network is full of articles, safety resources, blogs, forums, survivor groups, safety tips and videos on topics ranging from rape, sexual assault prevention, and identity theft protection to date rape drugs, college campus dangers and childhood bullying.
Personal safety experts and Executive Directors of the Women's Personal Safety Network, Samuel Scott and Hersh Sandhoo are a powerful, empowering interview and teach women:

how to be aware of their surroundings to avoid an attack
how predators pick their targets
how to avoid fitting the victim profile
the 5 most common mistakes made by victims
how to escape the most common attacks used by street predators
Samuel and Hersh have received critical acclaim from the media, law enforcement, security firms, corporations, college organizations and government agencies. They have over 50 years of combined martial arts training and have personally taught self-defense and defensive tactics to thousands of people worldwide. Samuel also served as a correctional officer for 14.5 years and is the author of Women's Personal Safety 101. They are an excellent interview that will empower you and your audience.
To interview them, call Samuel at: 301-808-3578
###