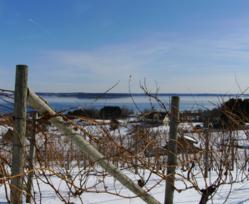 Many of the ice wines made in Northern Michigan consistently rival those from the great ice wine producing regions around the world. -Lee Lutes, winemaker at Black Star Farms
Leelanau Peninsula, MI (PRWEB) December 22, 2011
'When you want something truly amazing, ice wine is the nectar of the gods."
~winemaker Alan Eaker of Longview Winery
The Leelanau Peninsula in Northern Michigan is an ideal location to grow and harvest grapes for ice wines. Located right on the 45th Parallel, Leelanau is on the same latitude as some of the best wine growing regions in the world including the Rhone Valley in France, the Piedemont in Italy, and the Williamette Valley in Oregon.
"Our region is extremely well suited for the production of ice wine because of our unique climate. Many of the ice wines from Northern Michigan wineries consistently rival others from the great ice wine producing regions around the world," says Black Star Farms winemaker Lee Lutes.
The shape and location of the Leelanau Peninsula is also important in producing ice wines. The long, somewhat narrow shape provides a superior micro-climate. Leelanau is surrounded by Lake Michigan on three sides, and is perfectly buffered from harsh weather which allows for a gradual freeze.
Ice wine or 'eiswein', from its German origins, is a rare and wonderful dessert wine that requires special care and skill. Limited quantities of healthy grapes are left on the vine until conditions are right for an ice wine harvest. This can occur anytime from November to the first of the year. The labor-intensive harvest requires picking grapes that have frozen on the vine by hand, often before the sun has risen. Quantities harvested are small, and the grapes must also be pressed while frozen, providing a concentrated grape juice that gives ice wine a deep sweetness that is balanced by high acidity.
Due to the labor intensive harvest and small quantities of suitable grapes, ice wines are generally rare and expensive. Here are some of our Leelanau Peninsula Ice Wines, which we hope you will get a chance to sample:
Black Star Farms: A Capella Riesling Ice Wine
Price: $92.50
Verterra: Vignoles Ice Wine, NorthPole
Price: $40 (375ml)
Good Neighbor Organics: Organic ice wine
Price: $30
45 North: Icebox Gewurtztraminer
Price: $55
Longview - Winter Ice
Price: $60
Bel Lago: Pinot Grigio Ice Wine 2011
release date: Spring 2012
Price: $60
The Leelanau Peninsula Vintner's Association was formed in 2000 with a goal to help spread the word about all the wonderful things the Leelanau Peninsula has to offer including a growing number of award-winning wineries, excellent restaurants and a rich agricultural history. Today, it is the largest and strongest of the four organized wine trails in Michigan which promote the state's nearly $790 million grape/wine industry.
Leelanau Peninsula Vintners Association
http://lpwines.com/press/
231-421-1172
###