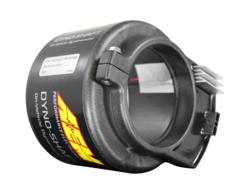 Real-world torque and horsepower information right at the track!
Tallmadge, Ohio (PRWEB) December 21, 2011
Now in stock at Summit Racing Equipment, the AEM Power Dyno-Shaft lets racers test under actual intake air conditions, vehicle loading, track conditions, etc. that cannot be duplicated in a dyno room. You can determine exactly when the tires will break loose—ideal for optimizing the car during launch, for example. The Dyno-Shaft will even show what the torque converter or clutch is doing during a pass--know for sure if slower times are due to a loss of power, vehicle setup, or driver error.
The Dyno-Shaft controller unit fits over the transmission tail shaft housing and transmits information from the Dyno-Shaft via AEMnet (AEM's CAN bus communications network) to a data logger, programmable engine management system, or a custom dash.
APPLICATIONS: The Sportsman Series is for racers that can use a cast-iron slip yoke. The Pro Series has a CNC-machined, chromoly slip yoke that can handle the stress of serious sportsman and professional-class cars.
OTHER STUFF WORTH KNOWING: AEM's AQ-1 Data Logger is the ideal host device for the Dyno-Shaft. It can record and replay continuous power data as well as create dyno charts which can be saved, printed, or shared.
WHERE TO GET ONE: Order online at SummitRacing.com or call Summit Racing at 1-800-230-3030.
###