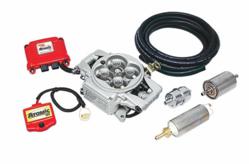 TALLMADGE, OHIO (PRWEB) December 22, 2011
Summit Racing Equipment now stocks MSD's Atomic EFI Systems.
MSD did their homework when they created the Atomic EFI system. It is truly a bolt-on-and-go way to convert a carbureted engine to electronic fuel injection, and it can support up to 620 horsepower with the proper fuel system.
The Atomic EFI Master Kit has everything in one box to pull off the carburetor-to-fuel-injection conversion: the throttle body, power module (with wideband oxygen sensor), handheld controller, and fuel system components.
The throttle body is the crown jewel of the Atomic system. Similar in size to a carburetor, it bolts to any square bore, 4150-style manifold and integrates the ECU, four injectors, internal fuel rails, the Idle Air Control solenoid, and TPS, MAP, and IAT sensors.
The Power Module is a remote unit that handles all the high-current loads. MSD's CAN-Bus technology allows for a single, clean connection between this unit and the throttle body-mounted ECU.
Initial setup takes only five minutes using the hand-held controller. Answer six questions such as the number of cubic inches, number of cylinders, and the desired rev limit and you're done. The controller can monitor engine functions from air/fuel ratio to engine coolant temps. It also has a diagnostic feature and display alert.
PART NUMBERS:MSD-2910 (Atomic EFI only) and MSD-2900 (Master Kit with fuel system)
OTHER STUFF WORTH KNOWING: The Atomic EFI system requires a return-style fuel system, the same type used on most classic muscle cars and street rods.
WHERE TO GET ONE: Order online at SummitRacing.com or call Summit Racing at 1-800-230-3030.
###