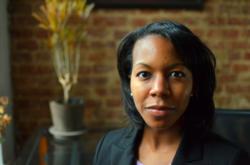 "We can get so focused on talking that we miss the gift in listening. By asking four simple questions, I've seen my subjects open a window into what truly makes them happy." - Lauren Moses
New York, NY (PRWEB) December 21, 2011
After graduating from one of the top business schools in the world, Lauren Moses set out on a promising career in financial services. Landing a position at JPMorgan Chase in New York was just the start she needed: a reputable firm, comfortable living and room for advancement. Four years in, Lauren was rocking and rolling. It was not until she read Timothy Ferriss' The 4-Hour Workweek that she took a second look at the life she had built. Now, one quit job and new business incorporation later, she's at the helm as CEO of Peace And Joy Today, LLC, a company Moses founded, capitalizing on the multibillion-dollar business of inspiration.
"The book talked about living the life you're meant to lead – living your passion," said Moses about Ferriss' bestseller. "I liked the position at JPMorgan, but The 4-Hour Workweek opened my eyes to bringing much deeper meaning to my work. I decided I would commit to build a life around my personal passion."
Moses determined that "passion" was self-help. An avid reader and meditator, Moses realized her calling to share insight on finding peace and joy, especially in these uncertain economic and political times. Interviews with everyday people about how they find tranquility serve as the base for Moses' 'Inspiration Kits.' The spoken word albums are then enhanced with motivating readings, poems and quotations resulting in a creatively simple tool to encourage people from all walks of life.
"There is something powerful about listening to a person share their innermost thoughts," commented Moses on her recently completed Inspiration Kit #1. "We can get so focused on talking that we miss the gift in listening. By asking four simple questions, I've seen my subjects open a window into what truly makes them happy."
Moses asked ordinary people, including some of her friends, what brought them peace and joy, what was an act of kindness that made an impact on them, which book should everyone in the world read and what their favorite inspirational quotation is. The unlikely responses overflowed with insight on what human actions make the most impact in our lives. Conducting the interviews with minimal interruption, Moses created a true snapshot of how Americans are coping during the current economic downturn.
"Those interpersonal connections are what we all have in common," continued Moses. "Almost everyone I spoke with talked of how relationships with loved ones are the main ingredient for a contented, satisfying life. You don't have to be a millionaire to live joyfully; joy is appreciating and celebrating the little moments of love infused in everyday life. These kits help you find them."
The Harvard MBA training is still a driving force behind Moses' new business. She is not your typical self-help guru. Moses is set to prove any and every one can lead a successful life from the peace and joy enterprise. The formula, she says, is not that complicated.
"It's time to connect: ask more introspective questions of your friends; record an oral history of your family; be more attentive to one another. Our time here is too precious and finite to spend it not living your desired life. After listening to this spoken word album, I hope people are inspired to do that."
Inspiration Kit #1 will be available for online purchase in early 2012. To hear interview excerpts from the kit and to learn more about Peace and Joy Today, LLC, visit peaceandjoytoday.com. Also, for personal updates from Lauren Moses, follow Peace and Joy Today on Twitter at twitter.com/peace_joy_today and on Facebook at facebook.com/peaceandjoytoday.
**MEDIA NOTE: Lauren Moses is available throughout December 2011 and January 2012 for interviews about maintaining balance throughout the holidays, how to give the gift of joy and what Americans are doing to maintain it during a tough economy. Please contact Bernadette Morris at (305) 948-8063 ext. 201 to coordinate phone interviews and appearances.**
###